HEU commits $15,000 to relief efforts in Nepal
On Tuesday, another powerful 7.3 magnitude earthquake struck an already suffering Nepal.
The latest earthquake comes only three weeks after the devastating 7.9 magnitude earthquake on April 25, when more than 8,000 people lost their lives.
2.8 million people have been displaced and are living outdoors in what is developing into a major humanitarian crisis.
Currently, the pressing issue is to ensure that people have housing during the monsoon rains in June-July.
The scale of this disaster is enormous, and the Hospital Employees' Union has joined CUPE and other unions in providing assistance for relief efforts.
HEU has committed $15,000 to these efforts. Our donation has been made to Oxfam Canada, an organization that has long ties to the labour movement.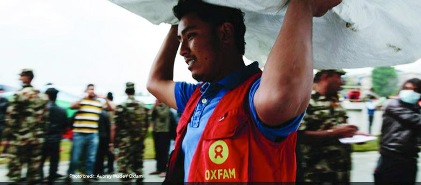 Oxfam's teams are already on the ground in Nepal and are putting a priority on providing relief work with clean water, sanitation and emergency food supplies.
HEU members are encouraged to make a contribution to Oxfam Canada or one of the many other organizations ddressing the crisis in Nepal.
Individual donations will be matched dollar-for-dollar by the federal government until May 25.