HEU confident of LPN majority support, despite LRB application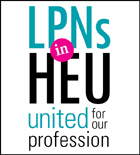 Ongoing outreach to LPN members across the province consistently shows the majority of LPNs want to stay in HEU - despite the BC Nurses' Union November 30 application to the Labour Relations Board (LRB).
The LRB will determine if, when and how any certification votes might take place. This raid is unprecedented, with complex legal issues involved, and HEU will be carefully reviewing the application over the coming days.
LPN members continue to be represented by HEU, the lead union in the Facilities Bargaining Association (FBA). HEU's bargaining committee, chaired by LPN Joanne Dickie, is currently preparing for negotiations.
HEU's November wage policy bargaining conference reaffirmed that LPNs have the full support of their union.
Updated information on this issue will be posted and distributed to members, as soon as it is available.
Watch Judy Darcy's video message on the BCNU application here.