HEU convention begins Monday

More than 500 delegates representing 42,000 health and community social services workers will gather in Richmond starting Monday for the 25th biennial convention of the Hospital Employees' Union. The convention runs through Friday, October 6.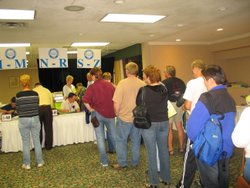 During the week, delegates will discuss the future of public health care, address key issues affecting quality care such as workload, and review recommendations for union restructuring.
They will also elect 20 members to HEU's provincial executive and recognize more than two decades of service of retiring financial secretary Mary LaPlante.
In addition to reports from HEU's secretary-business manager, president and financial secretary, delegates will hear from Federal NDP leader Jack Layton and from Margaret McGregor of Canadian Doctors for Medicare.
HEU members work for public, non-profit and private employers in a variety of care settings including hospitals, long-term care homes, community agencies and First Nations health centres.
They cover more than 300 different job classifications in areas such as: nursing (licensed practical nurses and care aides); trades and maintenance; diagnostic testing; logistics and supply; cleaning and dietary; laundry; home support and group homes; patient and medical records; human resources; information systems, and many others.