HEU Day October 13 marks 74 years of member solidarity in B.C.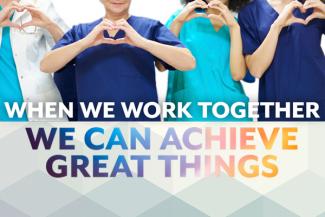 In 1944, separate men's and women's unions at Vancouver General Hospital came together to unite a diverse range of occupations and professions into one strong union.
On October 13 of that year, the Trades and Labour Congress chartered the Hospital Employees' Federal Union Local 180 – later renamed the Hospital Employees' Union.
From those humble beginnings with a few hundred members, HEU has grown to become B.C.'s largest health care union. Along the way, we've organized hospitals, care homes, community services, and First Nations health centres.
On our 74th anniversary, HEU is looking ahead – to organizing more members, to negotiating better agreements and to working for justice and economic security in our communities.
HEU Day – October 13 – is a date worth celebrating. And we encourage you to mark this occasion in your Local.
This year our theme is "When we work together, we can achieve great things."
With nearly 50,000 members in about 270 job categories, at facilities large and small across B.C., we are diverse in many ways. But we share a dedication and commitment to providing quality care, and to working for safety, fairness and respect – at the bargaining table, in our workplaces, and our communities.
"HEU members show dedication, professionalism and commitment, every day, in often challenging working conditions," says HEU secretary-business manager Jennifer Whiteside.
"On HEU Day we hope that members will reach out to each other, share their experiences, and celebrate the valuable role they play on the health care team, and in our union."