HEU joins BC Federation of Labour affiliates to provide $8 million in financial support to BCTF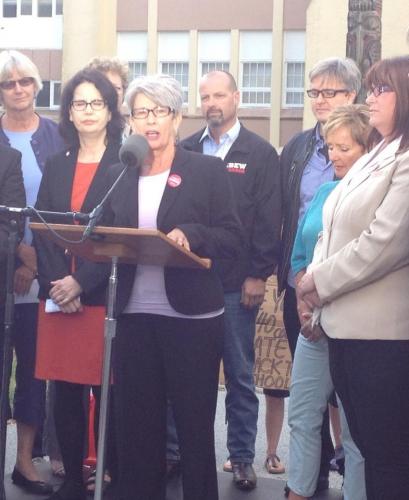 HEU will provide a one million dollar interest-free loan to the BC Teachers' Federation as part of an $8 million dollar loan package established by unions affiliated to the B.C. Federation of Labour. 
HEU secretary-business manager Bonnie Pearson says the fund will help ensure that the BCTF continues to have the resources it requires to secure a collective agreement with government.
 "Government needs to understand that HEU members and other public sector workers support teachers in their fight for a fair agreement and more resources for our children," says Pearson. 
In addition to HEU's one million dollar loan, many individual HEU locals are making direct donations to local teachers' associations around the province.
"We encourage our locals to continue to provide direct support to teachers in their community by providing financial support to local teachers' associations if they are able, and by supporting teachers on their picket lines and at other events," says Pearson. 
She also rejected government claims that an arbitrated agreement would be unfair to other public sector unions. 
"Government must recognize that every bargaining situation has its own unique challenges, history, and circumstances," says Pearson. "This particular set of bargaining has been complicated by government's unconstitutional attacks on the teachers' collective agreement." 
"It's time for government to stop making excuses and accept the BCTF's offer of an arbitrated end to this dispute."