HEU LPN with "will of steel" wins CUPE disability rights award

HEU licensed practical nurse and long-time social justice activist Catherine Peters is the winner of this year's CUPE National disability rights activism award.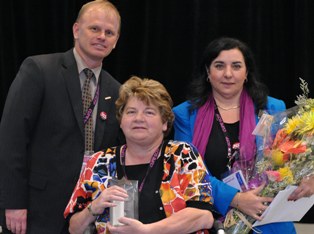 In honouring Peters, CUPE National president Paul Moist recognized her as someone who can "disarm people with her gentle grandmotherly ways" but also has "a will of steel" when it comes to doing the right thing for workers.
Peters, a member from the PHSA (Amalgamated) local at BC Children's Hospital, has been relentless in her work to improve the working conditions of members with disabilities. She has served on HEU's People with disAbilities standing committee since the creation of this constitutional body in 1994. After 15 years, Peters decided not to run for re-election at the union's equity conference this past May. However, her dedication to human rights continues and her activism remains an inspiration.
Peters is featured in the CUPE video, "Challenging Attitudes" .