HEU makes submission on LPN regulation
In response to proposed changes to the regulation that governs the LPN profession that were announced this fall, HEU made a submission on December 21 to the B.C. Ministry of Health.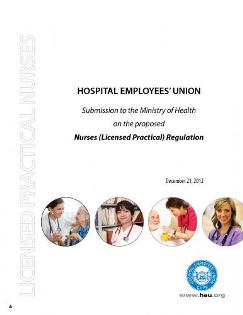 In its submission, HEU is raising concerns that government's proposed changes to the regulation currently governing LPN practice – while containing some advancements – also has the potential to set back LPN practice. 
As anticipated, the regulation moves away from LPNs being under the direct supervision of an RN, to a "restricted activities" model, which sets out specific activities that LPNs may perform without an order, as well as activities that LPNs can only carry out with an order. 
In HEU's submission to the Ministry of Health, the union points out that the proposed new regulation does not reflect the full scope of current LPN practice and competencies, and could negatively impact LPN utilization. 
For example, wound care and the administration of oxygen, have both been excluded from the list of restricted activities that LPNs may perform without an order. And the proposed new scope of practice statement omits the evaluation and coordinating functions performed by many LPNs. 
In an online survey of hundreds of LPNs conducted by HEU, nine out of ten LPNs supported the move towards more professional independence for LPNs. However, six out of ten LPNs said they felt employers would hire RNs to perform LPN work, if LPNs must get an RN order to perform certain activities as proposed in the new regulation.
To read HEU's full submission on the proposed LPN regulation, please click here. 
For more information about HEU's advocacy work on behalf of LPNs' independent nursing profession, please click here.