HEU marks Patient Care Technical Day January 25
On Wednesday, Hospital Employees' Union locals across British Columbia celebrate the valuable contributions made every day by HEU's patient care technical workers to their health care team.
HEU's patient care technical team works in about 60 job classifications. Representing 13 per cent of the union's the Facilities subsector membership, they bring a wealth of comprehensive education and training to some of the most diverse and critical services in health care.
Their work is often behind-the scenes but their skills and expertise are essential to ensuring that an array of patient procedures can be carried out.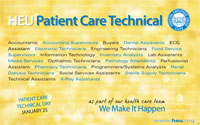 Patient Care Technical jobs include – medical lab assistants and phlebotomists, pharmacy technicians and pharmacy assistants, ophthalmic photographers/technicians, medical device reprocessing technicians (central supply/sterile supply departments), programs/systems analysts and IT/computer technicians, x-ray assistants, certified dental assistants, technical assistants, renal technicians, dietary supervisors, and buyers, among others.
Patient care technical members' job duties include: filling prescriptions and distributing narcotics; preparing IV bags and chemotherapy products; collecting, testing and analyzing quality lab specimens; performing diagnostic procedures; negotiating cost-efficient contracts with vendors to purchase virtually everything you see in a hospital; providing dental care; and doing visual field testing, retinal and slit lamp photographs and digital angiography. They also process special dietary orders (i.e. renal, diabetic); perform and assist with autopsies; sterilize medical, surgical and laser equipment and supplies; operate renal dialysis machines; and maintain integrated computer networks (i.e. electronic health records; pharmacy, lab and telephone systems, patient information, purchasing and billing programs).
The union's patient care technical subcommittee encourages locals to email photos and stories about how they celebrated Patient Care Technical Day to <patientcaretechnical@heu.org>.