HEU members declare We Are All Wisconsin at cross-border rally
More than 1,500 trade unionists and their families and supporters were out in force at the Peace Arch on Saturday, April 2 as they gathered in cross-border solidarity to protest recent state legislation put forward by Wisconsin's Republican governor, Scott Walker, that attacks public sector workers and their right to collective bargaining, and to stand with Wisconsin workers as they battle back.
Check out our image gallery from the rally.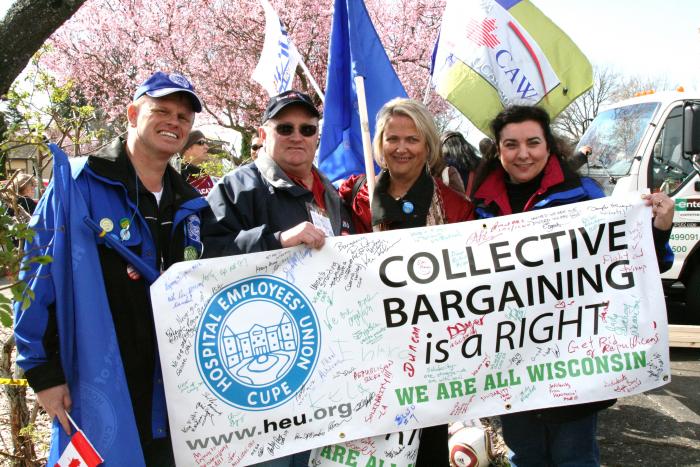 Trade union representatives from British Columbia, Washington and Oregon as well as a Dale Anderson, president of the Amalgamated Transit Union, AFL-CIO-CLC Local 519 in Wisconsin, spoke passionately about the importance of public services, the critical role of unions and their members in our societies, and the moves that right-wing politicians in both countries are making to reduce, restrict and eliminate workers' rights.
Read the coverage in the Vancouver Sun

During the rally, more than 200 HEU members carried flags and banners, and passed out hundreds of "Collective Bargaining. It's a Charter Right!" buttons. Banners declaring "We Are All Wisconsin" were signed by dozens of HEU members, and president Ken Robinson, secretary-business manager Judy Darcy, and financial secretary Donisa Bernardo presented one of these banners to Brother Anderson to take back to Wisconsin as a memento of the Peace Arch rally.

HEU members may recognize the Wisconsin governor's tactics against the state's public sector workers.

In 2002, the B.C. Liberal government used a legislative hammer to rip apart existing collective agreements and limit the collective bargaining rights of HEU and other unions' members through Bill 29. That legislation also enabled massive contracting out and privatization in health care, and thousands of health care workers lost their jobs. HEU fought back and challenged Bill 29 in the courts. As a result, in 2007, the Supreme Court of Canada found that collective bargaining is a protected right under Canada's Charter of Rights and Freedoms.