HEU members unite for AIDS fundraising events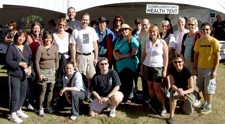 In a record-breaking turnout, HEU's WALK for LIFE 2006 team raised nearly $2,700 for the British Columbia Persons with AIDS Society (BCPWA).
About 25 HEU members and Provincial Office staff joined 2,500 participants – including teams from CEP, CUPE BC, COPE, BCNU and BC NDP – for the 10 km walk around Vancouver's SeaWall on September 24.
"The unity of walking together with other community groups concerned about this issue really struck me," says HEU's acting equity officer Lila Murao. "We all share a common goal of raising awareness and money for prevention and hopefully a cure for this terrible disease – a disease that can affect any one of us."
Organized by HEU's Lesbian and Gay Standing Committee, the HEU team also held a skydiving event the previous weekend in Abbotsford to kick-off their BCPWA fundraising initiative.
Since 2003, the HEU team has raised just over $6,000 for people living with HIV and AIDS in British Columbia.
This year's WALK for LIFE has so far raised $389,000 with more donations still coming in.