HEU rallies in support of hotel workers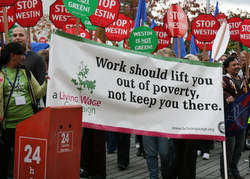 Hundreds of members of the Hospital Employees' Union joined hotel workers and their supporters for a rally at Vancouver's Westin Bayshore Tuesday to support their fight for a fair deal from the hotel.
Members of UNITE HERE! Local 40 say that the Westin's so-called green program is denying hotel workers of shifts and reducing access to health benefits.
The program offers an incentive to hotel guests if they cancel housekeeping services. But UNITE HERE says the program means that workers lose shifts on short notice, and results in more intense cleaning as laundry and garbage pile up.
Delegates to the HEU convention, being held at the Westin Bayshore this week, are not participating in the program and turned out by the hundreds to support Local 40 members in a boisterous rally Tuesday.