HEU supports Canada's postal workers
Newsletter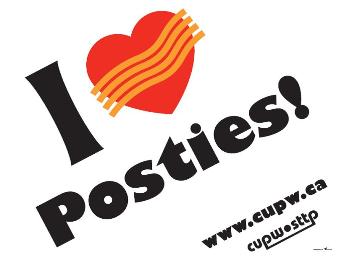 On Tuesday, Canada Post issued 72-hour lockout notice to 50,000 members of the Canadian Union of Postal Workers (CUPW). 
A lockout could threaten mail service across Canada as early as this Friday. 
The Hospital Employees' Union stands in solidarity with postal workers in their fight for a fair contract. 
Despite long-standing profitability, Canada Post is proposing steep concessions that would undermine wages and decent pensions for future generations. 
So, what are the main issues? 
First, the union is demanding pay equity for its female-dominated rural carriers, who are earning 28 per cent less than their urban counterparts.  
Second, CUPW is fighting to protect their pension plan for current and future members. 
Canada Post wants to undercut the current pension system by moving from a defined benefit to a defined contribution plan for new hires, creating a two-tier pension structure. 
Canada Post's demands are unreasonable.  In the first quarter of 2016, Canada Post had a net profit of $24 million according to news reports. 
HEU joins the Canadian Labour Congress in calling on the Trudeau Liberals to end the pension attack and rein in the Crown Corporation. 
The union is urging HEU members to support postal workers in their fight for a fair deal. 
You can show your solidarity with CUPW by downloading and putting up signs on your mailbox or in your window and by supporting to postal workers in your community: http://www.cupw.ca/en/campaign/resources/download-and-print-cupw-support-signs