HEU tells bank shareholders to uphold Wisconsin workers' rights
HEU secretary-business manager Judy Darcy told Bank of Montreal shareholders Tuesday that they should support Wisconsin workers right to free collective bargaining.
Darcy was participating in a BC Federation of Labour action to show solidarity with Wisconsin's public sector workers whose collective bargaining rights are under attack by the state Republicans who hold the Governer's office and the state legislature.
WE ARE All Wisconsin
APRIL 2 RALLY
Canada/US BORDER
Download rally flyer/poster.
She joined BC Fed president Jim Sinclair and two trade union leaders from Wisconsin — Betsy Kippers of the Wisconsin Education Association Council and Marc Norberg of the Sheet Metal Workers union.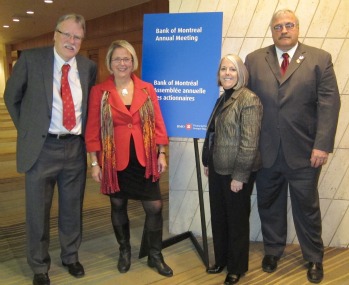 The labour action targeted the Bank of Montreal because of its recent acquisition of a Wisconsin bank that was a major contributor to the election campaign of Wisconsin governor Scott Walker. As part of the deal, BMO will pay $18 million (US) in severance to Marshall & Ilsey (M&I) Bank CEO and chairman Mark Furlong and $65 million in severance to 15 other executives.
Darcy told BMO shareholders and Board members about the struggle of HEU members who had their own contracts stripped by the B.C. Liberal government in 2002 and the impact that this has had on decent, family supporting jobs in the sector.
"We fought that attack all the way to the Supreme Court of Canada and now collective bargaining is a charter right in Canada," says Darcy. "It ought to be a right for Wisconsin workers as well."
HEU members will be able to show their support for U.S. unions currently under attack by joining a major rally at the Peace Arch border crossing on April 2. The union is organizing buses to get members to the rally (more details).
You can read more about M&I and its links to the attack on Wisconsin workers and today's actions at unionsmart.org.