HEU wins diversity in the workplace award

Printer Friendly Version
The Hospital Employees' Union has won a cultural diversity in the workplace award in the not-for-profit sector at the DIVERSEcity Community Resources Society's 15th annual banquet and ceremony in Surrey on April 13.

HEU president Ken Robinson accepted the award that recognizes the union's long-standing commitment to promoting diversity and equality.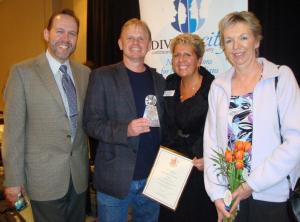 "This night is about celebrating forward-thinking leaders," said Robinson. "This award belongs to our HEU leaders of the past; leaders who enshrined ethnic diversity rights in our organization's Constitution.

"This has ensured the continued strength of our union in today's ever-changing world. And our current HEU leadership continues that commitment to our members and our staff on a daily basis."

The evening included opening remarks from Surrey Mayor Dianne Watts, emcee Penny Priddy, keynote speaker Sophie Lui of Global TV, and entertainment by EnKarma.

Several municipal, provincial and federal politicians were also in attendance.

The Surrey-based society sponsors the annual Cultural DIVERSEcity Awards for Business to recognize organizations and businesses that "embrace the values of cultural diversity in the workplace."
For more information visit their website <www.dcrs.ca>.