HEU wins five awards for communications excellence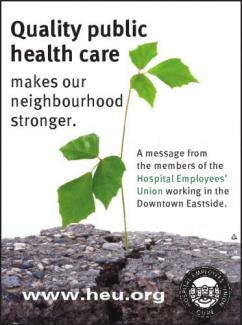 The Hospital Employees' Union earned five awards for graphic design, writing and campaigns at the annual Awards Banquet for the Canadian Association of Labour Media held May 7.
CALM members include labour communicators from national, provincial and local unions from across Canada and the annual awards cap off two days of workshops hosted this year at the HEU's provincial office in Burnaby.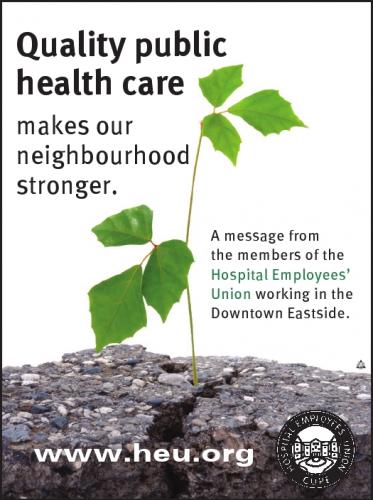 HEU won the Best Print Ad Award for an ad placed in the Olympics issue of Megaphone Magazine. It's a publication that is sold on the streets of Vancouver by homeless and low-income people. Formerly known as Spare Change, the magazine is committed to grassroots community action to end poverty. HEU's ad featured a green plant growing out of an urban sidewalk and contained a message of solidarity from HEU members who work on Vancouver's Downtown Eastside.
The union also won the Best Illustration Award for the illustration that accompanied the feature "Are government cutbacks making us sick?" that appeared in the Summer 2010 issue of the Guardian.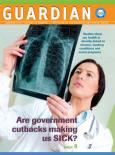 The union received an honourable mention for the  Muckraking Award for its work to force health authorities to disclose the details of commercial contracts signed with multinational corporations for hospital services. Another honourable mention was earned for the Design and Layout Award for the Guardian newspaper.
Finally, the union received an honourable mention in the Breaking Barriers Award category for a series of member profiles written as part of the "My Union, My Life" series in a number of ethnic papers.
CALM was founded 35 years ago.