HEU wins two major awards from the Canadian Association of Labour Media
The Hospital Employees' Union picked up two national awards – Best Overall Print Publication and Best Poster – during a ceremony hosted by the Canadian Association of Labour Media in Montreal on Friday night.
HEU's flagship newsmagazine the Guardian received the Katie FitzRandolph Award for Best Overall Print Publication, produced by staff.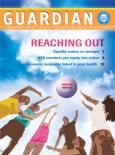 In announcing the award, the presenter issued the following judge's statement:
"HEU's Guardian stands out first and foremost for the caliber of writing in its pages and a clean, cohesive design. Well organized and well edited, it brings together a wide variety of content ranging from practical tips of immediate relevance to members to longer journalistic articles. The Guardian manages to be both self-reflective and outward looking, and the topics covered demonstrate an attention to community engagement and a commitment to advancing the interests of workers as a whole, locally and internationally."
The second accolade was awarded for the union's original poster [Warning: graphic content] marking the National Day of Remembrance and Action on Ending Violence Against Women, produced by HEU's in-house graphic designer Elaine Happer.
The category's judge said, "The message for this poster is very direct and bold. It uses a good combination of design elements such as photography, clear typography, limited colours and clear grid structure. The poster overall show us the harsh realities and violence women face every day."
CALM is a nationwide organization supporting the work of labour communicators and union activists since 1976.