HEU's Equity Conference inspires and equips members to fight for equality
Slam poets set the tone and guest speakers, including best-selling author Linda McQuaig, provided the context for more than 120 HEU sisters and brothers representing our five equity-seeking groups – Women, First Nations, People with disabilities, Ethnic Diversity, Pink Triangle – gathered in Richmond on March 8 to 10 for the union's Equity Conference.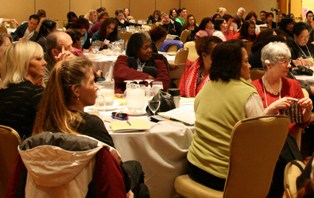 While there was a great deal for the caucuses to accomplish over the two and a half days, the talent of the performers, the knowledge of the presenters and the enthusiasm of participants made the time fly by. By the end of the conference, the caucuses had reviewed the state of the union and identified ways to overcome barriers to full participation. They had elected members to their standing committees and established the priorities that will focus the work to be done over the next two years. And they reconnected with friends and allies, and made new ones. 
HEU secretary-business manager Judy Darcy, president Ken Robinson and financial secretary Donisa Bernardo all spoke to delegates throughout the conference and each emphasized the union's diversity and how critical equity was to achieving our goals. 
Bernardo welcomed participants during the first evening's plenary, saying, "Look around this room, look at all the diversity. All our conferences, meetings and conventions should look like this because this is what our membership looks like." 
Slam poet Adelene Da Soul celebrated this March 8, the 100th anniversary of International Women's Day, by honouring women with her original poems and trademark spoken-word style.
 Joey Hartman, former HEU servicing representative and newly-elected, first female president of the Vancouver and District Labour Council, continued the theme by highlighting the VDLC's march toward women's equality. 
And Shelly Johnson, assistant professor at Thompson Rivers University School of Social Work and Human Service and a woman of Saulteaux (Keeseekoose First Nation) and Norwegian ancestry brought the reality of life for Canada's indigenous people to the conference. 
Wednesday morning, award-winning journalist McQuaig minced no words when reviewing government economic policies. She told participants that today "the level of [economic] inequality seen in Canada and the United States is extreme" and that "you have to go back to the 1920s" to find this level anywhere else in the last hundred years. She noted that there is nothing natural about the workings of the marketplace. Laws determine the marketplace. McQuaig concluded by saying that Canadians care about equality and that they support investment in social programs. She encouraged participants to "fight back for equality." 
When spoken word artist Scruffmouth took the stage, he offered several poems that demonstrated the power and impact of language including one that suggested "words are WMDs" – weapons of mass destruction. From an ancestral connection to Adelene Da Soul to the origin of Scruffmouth (a childhood nickname from his older brother) to the social and political commentary he includes in his works, he sent delegates off to their workshops with humour and hope. 
Then Darcy provided the context for the caucus workshops with a review of HEU's Strategic Directions document – approved by delegates at last November's 27th biennial convention – which outlines the union's priorities and specifically identifies building locals by building strength in our diversity. She said that lessons have been learned through struggle and ingredients for success include "building leadership and building allies." The equity caucuses used Strategic Directions to ensure that their objectives were closely tied to HEU's overall goals. 
On Thursday morning, before the election of standing committee members in their various caucuses, Robinson spoke to delegates about the importance of diversity. He said that we need to "make space, make room for others to come in, to shine and to score" much like a good soccer team does. He encouraged members to "never let anyone take action to divide us."
 Later in the afternoon, in the last plenary session of the conference, each of the equity groups introduced the incoming committee members and presented their committee's work priorities including education, outreach, political action and leadership training and mentoring. 
Delegates headed home energized and united by their desire to strengthen HEU locals, raise awareness about equity issues in our workplaces and at all levels of the union, and link with equality-seeking groups in our communities and beyond.