Housekeeping and dietary workers kick off bargaining support actions
Workers send a strong, clear message; where would the hospitals be without us?

Printer Friendly Version

HEU members employed by Sodexo, along with their allies, participated in a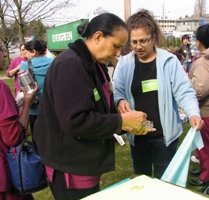 creative action at Surrey Memorial Hospital Thursday to highlight the issues at stake in the current round of bargaining with Sodexo, Aramark and Compass.
This was the first in a series of actions that will travel to work sites in the Lower Mainland and Southern Vancouver Island to showcase how living wages and decent working conditions for housekeeping and dietary workers are essential for clean, safe hospitals.
These actions are also part of the growing call on health authorities and government to take responsibility for the performance of their corporate contractors operating in public hospitals.
More information and online actions can be found here.