International Women's Day greetings from HEU
Time to celebrate our achievements and plan our ongoing work to achieve equality

The Hospital Employees' Union has a long and proud tradition of celebrating March 8, International Women's Day (IWD). Every year, the union produces a sticker to herald the day, locals plan events to mark it, and members join with others in their communities to recognize the achievements of women and plan the ongoing work.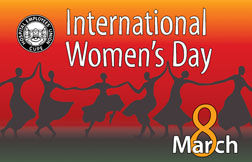 This year's design features dancers on a background of brilliant sunset colours. It's jubilant and strong and illustrates freedom and movement. It's a wonderful portrayal of what hundreds of thousands of women around the world will be doing on IWD. And we want to join them.
Many HEU locals honour IWD with celebrations of their own – collages on union bulletin boards that illustrate women's history in B.C. or Canada, lobbying actions that urge politicians to move on violence against women, child care, affordable housing, pensions and other issues that increase women's equality, or joint projects with women's resource centres and transition houses and shelters.
This year, members of the HEU women's committee will be hosting activities in their locals or work sites. If your local doesn't already have a women's committee, IWD is a good time to begin. Contact the HEU women's committee by calling toll-free at 1-800-663-5813 extension 7192 or in the Lower Mainland at 604-456-7192, and press 5 to leave a message.
Read about the history of IWD and some of the challenges faced by women across Canada (CUPE).
Read about how the B.C. government has failed to live up to its international obligations to protect the rights of the province's most vulnerable women (BC CEDAW).