Kamloops residents speak out for public health care

Frigid temperatures and an early Saturday morning start didn't stop Kamloops residents from showing support for public health care at a rally coinciding with the start of the B.C. Liberal government's Conversation on Health public forums.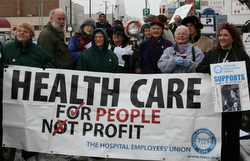 Organized by the BC Health Coalition and a local coalition of community and labour groups, the rally drew more than 50 people including many who are taking part in the formal government meetings.
Speakers including HEU president Fred Muzin thanked those participating in the government meetings for taking the time to make their concerns known.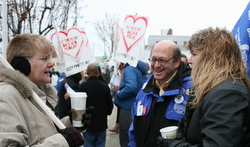 Muzin urged government to spend more time listening to the public and less time spreading their own doomsday message about health care spending.
"Over the past two weeks, we've seen how this government acts when they're told their support for health care is inadequate -- even when it's from their own appointees to health boards," says Muzin.
"The fact is universal public health care is fair and cost effective and we can afford to act on proven solutions that will improve health services in growing communities like Kamloops."
The rally was organized in part by the BC Health Coalition and its Medicare Campaigner Leslie Dickout says the public should be concerned that the government has already made up their mind to support further privatization of our health care system.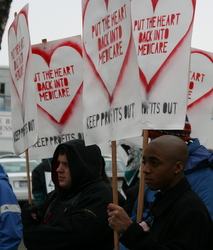 "There are viable public solutions that should be supported by this government to address growing local challenges such as the lack of long term care beds in Kamloops."
A group of William's Lake residents rallied at the site of the Conversation forum later Saturday. They were speaking out for Deni House, a long-term care being closed by the Interior Health Authority.