Labour Board foregoes hearing, asks for submissions on LPN application
In the wake of BCNU's November 30 application to represent LPNs in the FBA, BCLRB asks for submissions, instead of holding a hearing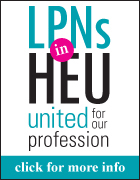 In the wake of the BC Nurses' Union's November 30 application to represent LPNs in the Facilities Bargaining Association (FBA), B.C.'s Labour Relations Board is asking for submissions, instead of holding a hearing within the typical ten-day period.
"The nature and scope of BCNU's application has no precedent in B.C. labour law," explains HEU's organizing coordinator Susan Fisher.
"Given the number of complex legal issues involved – issues the Board will need to grapple with in order to determine how to proceed – it is not surprising they would initiate the process with written submissions."
Fisher says BCNU applied to represent all LPNs in the FBA bargaining unit, but at the same time made six separate, alternative applications for LPNs in Northern Health, Interior Health, Vancouver Coastal, Fraser Health, Vancouver Island and the Provincial Health Services Authority.
"Frankly, their approach confirms what we've been telling our members all along," says Fisher. "They don't have majority support among the province's LPNs, so they've hedged their bets and made additional, separate applications as well."
She says this presents a risk that LPNs in one area of B.C. could be separated from LPNs in the rest of the province – a move that would fracture their professional unity.
"Given that BCNU does not have majority support from B.C.'s LPNs, we had hoped they would do the right thing and end their raid, which has been divisive for LPNs and the rest of the nursing team," says Fisher.
"They have the ability to withdraw their application. And that's exactly what they should do."