Living Wage BBQ celebrates successes

HEU's Living Wage campaign saw dozens of dedicated members carry out many activities and events over the last three years to support the goal of a living wage for workers. The campaign also sparked wide community support and involvement and paved the way for a broader coalition to take up the call for a living wage.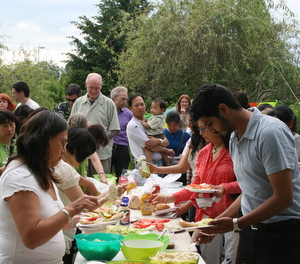 To celebrate these successes, and more, HEU hosted a barbeque and social at the Provincial Office on June 23. More than 70 attended, including members from various locals around the Lower Mainland as well as guests from child and youth advocacy coalition First Call's Living Wage for Families initiative, New Westminster city council – which recently adopted the first municipal living wage policy in Canada – and the United Food and Commercial Workers (UFCW) local 1518, another union that's launched an living wage campaign.