LPNs and our union have the right to advocate for the profession
BCNU has issued a statement complaining about our union's advocacy for our independent professional interests as nurses.

Just to be clear, BCNU has made claims about the accuracy of our publications, but they have failed to back up any of these claims.

And we make no apologies for engaging in a consultation with our LPN members about how to move the profession forward.

LPNs have been very clear that they are determined to have a voice in the changes that will impact their profession, even if that displeases BCNU or others.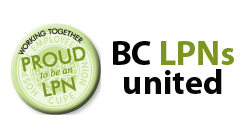 Not everyone agrees with our vision for the profession -- a vision that emphasizes independent practice within a collaborative team rather than strict hierarchical relationships.

And it appears that BCNU is concerned enough about our advocacy that they sought out a meeting with the College of LPNs of B.C. to discuss it.

We invite you to make your own decision about what we've said on the evolution of our profession.

If you haven't had a chance to read our publication about the changes facing our profession, we invite you to do so now.

We also encourage you to take our survey on this issue.

Finally, we'd like to express our disappointment that BCNU is undermining the neutrality and professionalism of our regulatory body by dragging them into their raid.