Nanaimo rallies behind fired workers at publicly funded care facility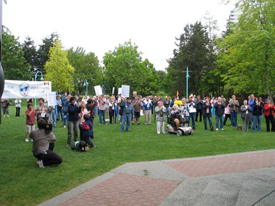 More than 200 people rallied on Saturday morning to support 168 health care workers who have been laid off for the third time at Nanaimo Seniors Village.
Using the provisions of Bill 29, the publicly funded, for-profit facility flipped its contract with the subcontractor employing the HEU members just weeks after a first collective agreement was signed.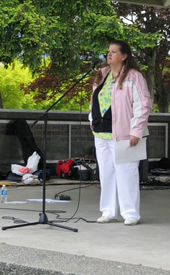 Speakers at the rally included HEU financial secretary Donisa Bernardo, BC Federation of Labour president Jim Sinclair, a senior who lives at the facility, and other supporters.
Chris Martin, the chairperson of the Nanaimo Seniors Village HEU Local and a care aide at the facility, urged Nanaimo residents to question how Bill 29 is affecting residents and workers.
"Wouldn't you like to know," Martin asked the crowd, "why Retirement Concepts is allowed to continually fire their staff, bring in an umbrella company, rehire their staff again and slash wages… all the while enjoying government funding without a hiccup?"
Martin will lead a delegation of workers to the legislature in Victoria on Monday where they'll let MLAs know about the situation at Nanaimo Seniors Village.
HEU represents care aides, licensed practical nurses, recreation programmers and assisted living workers at the facility.