New Horizons rally and march condemns mass staff layoff at the Campbell River care home
Petitions with more than 5,500 signatures to be presented in B.C. legislature March 5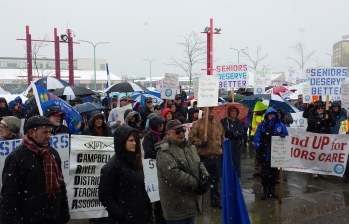 Not even the unrelenting snowfall prevented an estimated 150-plus concerned citizens and trade unionists from gathering at a Campbell River rally on March 2 to condemn the mass staff layoffs underway at New Horizons care home.
Since the layoffs were first announced on December 30, the facility's new owner – Park Place Seniors Living – has been under increasing pressure from the North Island community to reverse its decision to contract out the 120 HEU members who work for New Horizons.
And despite an offer from HEU last month to roll over the current collective agreement with a wage freeze for two years, Park Place still refused to change course.
"It's pretty clear to me that contracting out at New Horizons isn't about health care workers making too much money," HEU secretary-business manager Bonnie Pearson told the rally. "It's about New Horizons wanting to make more money…Tell me this isn't about putting profits ahead of decent care."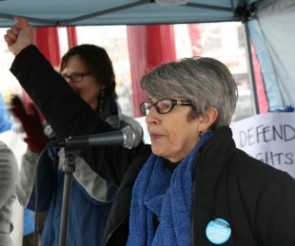 She also pointed out that within a few weeks of publicly insisting the company was contracting out services to contain costs, Park Place turned around and purchased a 160-bed, multi-million dollar facility in Duncan – Sunridge Place – and now those health care workers are being contracted out.
B.C. Federation of Labour President Jim Sinclair put it this way: "What's happening to these people is a crime. They're being robbed of their ability to make a living by a company that's going to rip up their collective agreement and fire them all." 
And he reminded the crowd that New Horizons staff "take care of the people who built this community, who built British Columbia…This is no way to treat seniors or workers in Campbell River." 
Other speakers who chastised the company for its actions, and the provincial government for refusing to stop large scale contracting out in long-term care, included Andrea Craddock of the Campbell River, Courtenay District Labour Council, Lois Jervis from Citizens for Quality Health Care, family member and local politician Brenda Leigh, North Island MLA Claire Trevena, and seniors' care advocate Kim Slater.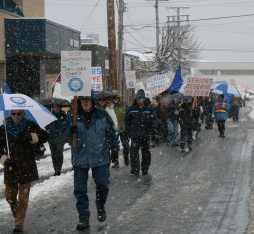 Following a short march to New Horizons care home, rally participants made their way to the local union hall for food and beverages and a last chance to sign a petition that will be presented to the legislature on March 5.  
At last count, the number of signatures had topped 5,500. 
Before people headed home, HEU president Victor Elkins thanked everyone for their support – many had travelled from other parts of the Island and the Lower Mainland – and urged them to carry on the fight to save quality seniors' care and decent jobs in B.C.