Talking about a living wage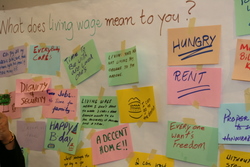 Health care workers, community representatives and trade unionists jammed a meeting hall at the downtown Vancouver Library Sunday night to talk about earning a living wage.
The HEU sponsored the public meeting to look at new ways that unions can work with community organizations and faith groups to secure living wages.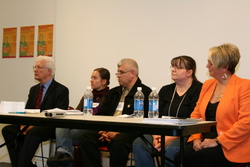 Speakers from the United Kingdom and from the local migrant workers movement here in B.C. talked about their own experiences organizing for better wages and working conditions.
And two HEU members who work for Compass and Aramark told the meeting about how low wages in the sector affected their workplaces, their co-workers and their ability to support their families.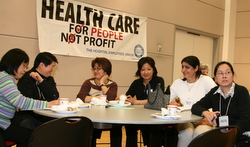 The public meeting took place on the eve of a day-long strategy session for workers employed by the Big Three hospital contractors - Sodexho, Aramark and Compass - and other HEU members and staff to talk about ways to fight for living wages in our communities.