Tory child care plans fail families

The Conservative government has shuffled its cabinet and shifted priorities, but it has some major unfinished business when it comes to child care.
"The Tories haven't created the child care spaces Canadians need. Businesses aren"t welcoming their plans for the private sector to create child care spots and parents have received a taxable $100 towards covering their child care fees. It's shameful that this government could call that a success," said Paul Moist, national president of the Canadian Union of Public Employees (CUPE).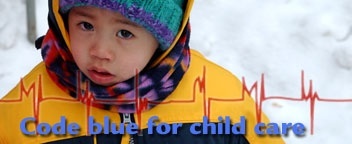 Code Blue for Child Care's Making Space for child care report, released today, confirms that the Conservatives' piecemeal approach to child care won't work. This lack of sound policy is particularly urgent given that Canada lags behind other nations internationally when it comes to child care. Research demonstrates a direct connection between children's early experiences and their lifetime health and well being and learning.
The impact of the Conservative's bad policy on child care spaces is being magnified in British Columbia, where the government has capped the amount of money for subsidies.
"For the first time, BC parents who otherwise would qualify will not be able to get subsidies. Centres are facing deficits and their only choice is to increase fees and hold the line on programs," says Randi Gurholt-Seary, a child care worker and member of CUPE's national child care working group.
"We won't see new spaces created to eliminate or alleviate the pressure on families to find high-quality child care. We need steady operating funds so that fees are more affordable for families and facilities have more stability" she adds. CUPE's national child care working group is meeting Jan. 12-13 in Ottawa, and will map out a pre-election strategy.
"We represent child care workers in Canada and their experience tells us that investment in early childhood education produces a huge societal return. It's pretty straightforward: the Tories are ignoring the economists and early childhood educators in favour of a taxable baby bonus.
When the election is called, Prime Minister Harper will have more than climate change to contend with, he will have droves of unsatisfied and frustrated parents to answer to," concluded Moist.