Trades, maintenance workers call for competitive wage package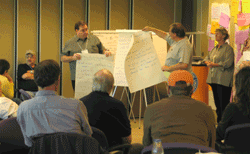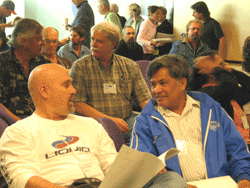 Trades and maintenance workers attending the second in a series of seven occupation- and sector-based conferences had an overriding message for the union leadership — wages are below industry standard and they must be addressed in the next round of bargaining.
In addition to wage increases, the 75 workers from across the province who met in Vancouver on September 19 and 20 also named benchmarks and shift differential premiums as priority issues for next spring's contract talks.
Throughout the two days delegates cited numerous problems resulting from cutbacks which included short-staffing, a retention and recruitment crisis, the increased use of outside contractors, inadequate training for new apprentices, insufficient time for preventative maintenance, and a lack of training opportunities to assist workers in keeping up with technological advancements.
Several delegates talked about how shoddy work by contractors increased health and safety hazards, caused additional workload for in-house trades and maintenance staff, and unnecessarily drained public health care dollars.
As workers responsible for holding together the aging infrastructure in BC's hospitals and care facilities — or maintaining the increasingly complex systems that drive the physical plant in newer facilities — delegates also shared their many frustrations regarding the critical, but often invisible, role they play in patient care.
Despite all these challenges, however, worker after worker took the floor to speak to the pride they take in their work, and to affirm their commitment to providing a safe and caring environment for patients and residents.
As one delegate said, "We may be invisible, but we're indispensable."
Trades and maintenance workers, who keep physical plant and emergency backup systems up and running, are responsible for everything from heating, electricity, plumbing, ventilation and air quality to smoke and fire control, dealing with mercury and other chemical spills, and maintaining life-support systems.
HEU secretary-business manager Judy Darcy told the group there was no question "that HEU members in trades and maintenance jobs have a really strong case for wage adjustments" and she committed to taking their message to the rest of the union.
Attending delegates will report back to their peers at the local level. Bargaining priorities developed during the conferences will go back to union locals, who will bring recommendations forward to HEU's Wage Policy Conference on January 9 and 10, 2006.
Delegates in attendance included plumbers, electricians, engineers, carpenters, cooks, machinists, maintenance workers, printers, and mechanics.