Triangle: Remembering the Fire
100th anniversary of workplace tragedy that revolutionized occupational health and safety – HBO documentary
When HEU members report for duty, they expect to return home safely at the end of their shift.
But even with B.C.'s occupational health and safety (OH&S) regulations securely in place, statistics show that nearly 200 British Columbians died from illnesses acquired, or injuries sustained, on the job last year.
So imagine what "working life" would have been like 100 years ago when many of these safety measures were not regulated by law.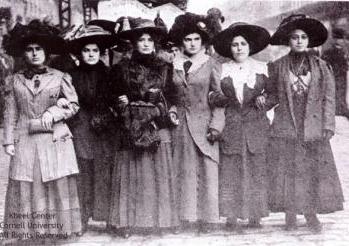 It was 1911 – the era just before World War I broke out, the decade that introduced the modern world to army tanks, stainless steel, pop-up toasters, and clothing zippers. Women were still denied the right to vote in North America. And a minor economic depression, known as the "Panic of 1911-1912", rocked the stock market, forcing entrepreneurs to make cost-cutting decisions to keep their businesses afloat.
It's no surprise, then, that OH&S was not an employer priority. Sweatshops were cropping up at an alarming rate in growing urban centres, employing children and immigrant workers in factories with deplorable conditions – often characterized by overcrowded work stations; poor lighting and ventilation; and working long hours, seven days a week for meagre wages. Unions were building grassroots momentum, sweatshop and child labour policies were being scrutinized, and the women's movement was gaining ground. But there was still a long way to go to protect workers' rights.
And that's the subject of a new HBO documentary Triangle: Remembering the Fire, a must-see for every trade union activist. The film retraces a workplace tragedy that triggered mass OH&S reforms and introduced labour laws that benefit workers today.
For the 146 garment workers – mostly immigrant women and young girls – who died in Manhattan's Triangle Shirtwaist Factory, those reforms came too late.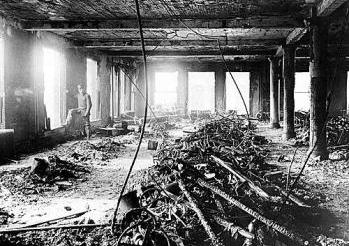 On Saturday, March 25, 1911, one of the worst industrial catastrophes in U.S. history struck New York City. Nearly 500 employees reported to work that morning at the 10-storey Asch Building in the heart of Greenwich Village. But shortly before closing time, a spark in a scrap fabric bin ignited a rapidly spreading fire – fuelled by countless paper patterns and rolls of fabric. Within mere moments, flames consumed the eighth and ninth floors, trapping unsuspecting workers.
After 18 minutes of horror, the factory was reduced to scorched, twisted metal in smouldering ashes. The fatalities: 129 women and young girls, 17 men, and another 71 injured.
Ironically, and tragically, many of those young women had taken to the streets two years earlier over unsafe working conditions, only to be beaten by employer-hired thugs and arrested for disorderly conduct by NYC police.
The city was shocked and outraged.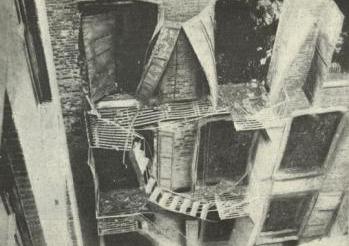 Many of the casualties could have been avoided. There was no fire alarm. Emergency doors were locked by the employer to prevent theft. A sprinkler system wasn't installed. Stairwells were only two-feet wide, making it challenging for workers to escape. The fire department's ladders only extended to the sixth floor – 30 feet below the terrified workers awaiting rescue at the smoke-billowing windows.
Overcrowding added to the chaos. It's reported that 300 women were working side-by-side on sewing machines on the ninth floor when flames entered their workspace. Many of those women perished in the fire or jumped to their deaths.
The factory's owners – Max Blanck and Isaac Harris – were charged with manslaughter, but were acquitted by an all-men jury. Instead, they were paid a reported $60,000 insurance claim (about $400 per victim) in excess of their business losses.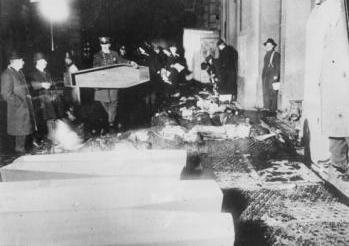 One witness – Frances Perkins – who would later play a key role in labour reforms as President Roosevelt's Secretary of Labor, recalls testimony from the Triangle owners' trial.
"[The door] had been locked by the employer himself because he feared that… some of the people in the shop might stroll out over the roof exit with a few shirtwaists rolled up under their jackets… In other words, he was afraid he would be robbed by his employees… I remember the judge in righteous indignation reproached him for his attitude toward his employees."
The tragedy galvanized the labour movement and put immense public pressure on politicians to be accountable for workers' safety.
On April 5, 1911, more than 100,000 workers walked off the job to honour the victims of the Triangle fire. An estimated 300,000 supporters joined them to march down the streets of Manhattan – protesting the unsafe working conditions of factories in the city.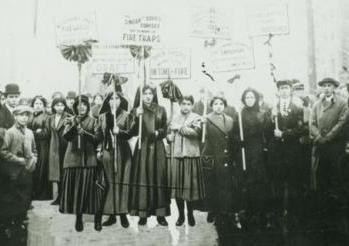 Over the next few years, 32 bills were passed in New York. Although this only changed workplace policies in the state, it did pave the way for federal reforms as part of Roosevelt's "New Deal" in the 1930s.
Many OH&S standards were established (like building codes and fire drills), plus new regulations to improve working conditions, such as hours of work, minimum wages, employment insurance, workers' compensation, pensions, and health benefits. There was also a huge push to abolish sweatshops and child labour.
Despite being acquitted of criminal liability, Blanck and Harris had to pay $75 compensation to each victim's family after a 1913 civil suit. That same year, Blanck was cited for a safety violation after once again locking the factory's emergency doors. His punishment? A $20 fine.
Triangle: Remembering the Fire is available on DVD. It will also be airing on HBO Canada on September 21 and September 30. For more information, visit HBO's website.
Culture story, Guardian summer 2011, Brenda Whitehall, HEU communications officer