Union launches week-long convention yesterday in Vancouver

HEU's 27
th
biennial convention kicked off at Vancouver's Westin Bayshore yesterday with 604 delegates from across the province ready to set the union's course of action over the next two years.
Called to order by HEU president Ken Robinson, delegates received First Nations' greetings from Jewel Thomas, and held a moment of silence for HEU members who have died since last convention, including paramedic Jo-Ann Fuller, also a clerical worker at Tofino General Hospital, who was killed in last week's tragic ambulance crash on Vancouver Island.
Bill Saunders, president of Vancouver & District Labour Council, brought solidarity greetings. "We have often found common cause with your campaigns and programs and your generally progressive approach to labour issues," said Saunders who was attending his final HEU convention prior to retirement. "We look forward to working closely with you for many years to come."
Down to business
Delegates received the report of the provincial trustees, began debating constitutional amendments and resolutions, started reviewing the Strategic Directions document, and adopted the report of the financial secretary Donisa Bernardo.
In Bernardo's speech, she reported on the overall financial health of the union.
"Considering 37,000 of our members have pensions with the Municipal Pension Plan, HEU must make it clear to convince members of this Liberal government, not to even think about messing with our pension because if they do, they face the same reaction as in France, Greece and Italy where there were massive demonstrations and work stoppages to protest changes to their pension plans," said Bernardo.
Former U.K. Minister speaks
In the afternoon, keynote speaker Frank Dobson, former health minister in the United Kingdom, spoke about the dangers of the B.C. government's continued privatization agenda and their push to implement a patient-focused funding system. He also stressed the importance of getting pharmaceutical costs under control, and the critical role the labour movement plays in preserving our public health care.
"Those of us who want to save our decent health care systems have a fight on our hands in both Britain and Canada," said Dobson. "That's why it's right to keep on fighting to save our decent health care systems. That's why you should be proud of your campaigns. Because without you, opposition to what is happening would have been much less effective, so keep on fighting for what's right. And I'm not exaggerating or trying to flatter you when I say that the continued survival of Canada's decent health care system depends on you and so do the people of Canada."
Before adjourning on day one, delegates adopted a constitutional amendment that strengthened and clarified the union's ability to protect its interests through charges and penalties.
UNITE HERE! Local 40 members thank HEU delegates for support - rally today at 5:00 p.m.

Members of UNITE HERE! Local 40 (Hotel Workers' Union) were invited as guests to address HEU delegates about their current labour dispute over pensions, wages and working hours. They spoke – on behalf of 350 Westin Bayshore employees who have been working without a contract since June 2010 – about the hotel's "Make a Green Choice" program, where guests are given a $5 per day discount coupon if they refuse to get their rooms serviced. What that means for workers, however, is cancelled shifts.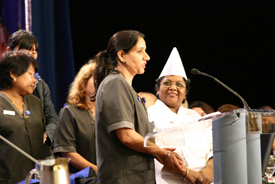 Union workers estimate that with every 100 green choice cards signed by hotel guests, there are five to six room attendants who get their shifts cancelled.
"I'm so proud of those hotel workers for the courage that it took for them to come up here today and talk about their working conditions," said financial secretary Donisa Bernardo. "We need to work together to improve the lives of all working people."
"The green card program is clearly an anti-worker program," said president Ken Robinson. "When we raise the bar for hotel workers, we raise the bar for everyone. Our fight is a living wage fight – for fair wages and decent benefits."
HEU will be joining UNITE HERE! workers for a demonstration, beginning today (October 26) at 5:00 p.m. at the Westin Bayshore.
Later Tuesday…Equity Night