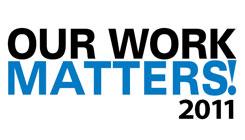 The next round of contract talks is just around the corner with the facilities subsector collective agreement set to expire on March 31, 2012.
In September, the union held a series of two-day Occupational Conferences (with the exception of Patient Care, which was three days) for facilities subsector members. The Occupational Conferences are an opportunity for members – in patient care, patient care technical, clerical, support, and trades & maintenance job families – to provide direct input into the bargaining priorities relevant to their occupational category.
Conference objectives include:
networking with peers from around the province;
discussing issues specific to their occupational area;
identifying a short list of bargaining priorities that address those issues;
talking about the impact of the current political and economic climate on bargaining, and how to bargain strategically in this environment, and
promoting occupational issues both within and outside the union.
Following the Occupational Conferences, bargaining priorities – determined by each occupational group – were submitted by the Provincial Executive to the Facilities Bargaining Conference in November. 
2011 Occupational Conference newsletters: