Uniting a team around your care - Fall 2013 (TV, 10 seconds)
These closed captioning ads profile the HEU team at work for patients.
[video:8634 width:320][video:8638 width:320][video:8639 width:320]
Time to Care! - October 2013 (Radio, 30 seconds)
In this ad, front-line care aides ask that we give them the time to care, in this 30-second ad celebrating Health Care Assistant Day on October 18.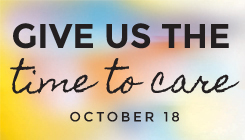 First Nations vote! - April 2013 (Radio, 30 seconds)
HEU ran this ad in First Nations communities across the north and the interior during the 2013 provincial election.
Uniting a Team - March 2012 (TV, 30 seconds)
HEU members work in every area of health care, providing care and support to patients and residents across B.C.
We're uniting a team around their care in hospitals and care facilities around the province.
Right now, HEU is at the bargaining table with its union partners seeking a fair and reasonable deal for 46,000 health care workers in the Facilities subsector.
The ad will air across B.C. over the next few weeks on various television channels.
Have a look at our ad, and feel free to share it on your Facebook page.
Protecting the care - December 2011 to March 2012 (Radio, 30 seconds)

If We Weren't There - December 2011/March 2012 (Radio, 30 seconds)
Who We Are - December 2011/January 2012 (Radio, 30 seconds)
Archived ads
Our union has taken to the airwaves many times over the years on issues ranging from workload and wages to privatization and seniors' care.
We've archived most of the TV and radio spots we've aired since 2001 right here, starting with the most recent campaigns.
Believe - December 2009 (TV, 30 seconds)
Watch the December 2009 television ad of HEU members and the work they do in B.C.'s hospitals and long-term care facilities.
RIH Security - October 2009 (Radio, 30 seconds)
Listen to Barb, a Licensed Practical Nurse at Royal Inland Hospital, speak about why keeping our in-house security is important for patient and worker safety.
Take Action Now – for cleaner, safer hospitals - September 2009 (TV, 30 seconds)
Families - April 2009 (TV, 30 seconds)
HEU's second TV ad in support of the Stand UP for Seniors' Care campaign.
"Facts" and "Every Call" - January 2009 (TV and Radio, 30 seconds)
These ads recount the crisis facing seniors' care in B.C. and ran as part of HEU's Stand UP for Seniors' Care campaign.
Cutting Corners - January 2009 (TV, 30 seconds)
This TV ad points to the impact of low wages on quality services in B.C. hospitals. It aired as HEU bargained for new contracts covering about 3,500 members employed by Aramark, Sodexo and Compass
A Fair Deal - Feb/Mar 2006 (TV, 30 seconds)
This series of TV ads features HEU members, and talks about their roles on the health care team. It's part of the union's efforts to reach collective agreements that deal with workload and a retention and recruitment crisis made worse by legislated wage cuts in 2004.
Bargaining for Better Care - Dec 2005/Jan 2006 (Radio, 30 seconds)
HEU kicks off 2006 with a series of radio ads that includes our commitment to bargain a contract that's fair to workers and improves health care for everyone.
Closed - April 2005 (TV, 30 seconds)
In the lead up to the May 2005 provincial election, the government of BC Liberal premier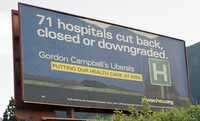 Gordon Campbell spent millions of tax dollars on feel-good ads, despite their promise not to.
Their business supporters - like the BC Business Council and the Coalition of BC Businesses – also spared no expense to run their own pre-election ad campaigns.
HEU ran its own pre-election ad featuring a rolling list of hospitals affected by Campbell's cuts set against the backdrop of a typical BC highway scene with a fading hospital road sign.

In 2006, "Closed" was recognized as the best in its category of political broadcast advertising winning a gold in the Summit International Awards, and also received an honourable mention in the International TV category in the Pollie Awards of the American Association of Political Consultants.

Millions - Nov-Dec 2004/Jan 2005 (TV, 30 seconds)
HEU is joined by the BC Federation of Labour, the BC Government and Service Employees' Union, the BC Teachers' Federation and the Federation of Post-Secondary Educators in this light-hearted look at the BC Liberal government's use of advertising to get itself out of a sticky situation.
Health Care on the Line - Spring 2004 (Radio, 30 seconds)
The BC Liberals' message in early 2004 was that their policies were bringing out the best in BC — but things were getting worse in health care. Contract rollbacks demanded by employers, longer wait lists, seniors going without care, and thousands of skilled workers—mostly women—losing their jobs.
These ads ran in the months leading up to a province-wide health strike and unprecedented legislation that rolled back wages for health care workers by 15 per cent.
And this series of ads aired beginning February 23, 2004:
While these ran in February 2004:
Massive layoffs in health care begin - Spring 2003 (Radio, 30 seconds)
The BC Liberals' health privatization scheme will result in 5,000 skilled and experienced front-line health care workers losing their jobs over the next few months - the largest mass firing of women workers in Canadian history. HEU campaigns for alternatives. On-air starting March 17, 2003:
And will sacking these workers make the care you and your family receive better or worse? This ad ran the week of March 3, 2003.
Asking questions about privatization - Feb/Mar 2003 (TV, 30 seconds)
On the verge of massive layoffs in health care, HEU asks why privatize health services when the costs are so high and the track record has been so poor?
HEU marks Bill 29 anniversary - Jan 2003 (Radio, 30 seconds)
On the anniversary of the passage of legislation that ripped up health care collective agreements, HEU members participated in acts of political protest across the province. This ad reminds the public of Gordon Campbell's broken promise to health care workers that he'd respect their collective agreements. The ads ran the week of January 27.
And a Vancouver Hospital housekeeper talks about her job, the Premier's broken promise and wonders about the government's priorities ran January 20-22 on CKNW's Rafe Mair Show.
Don't do it. Don't privatize - Dec 2002/Jan 2003 (Radio, 30 seconds)
Gordon Campbell's push to privatize hospital housekeeping is putting patients at risk by delivering critical health care jobs to low wage contractors. These radio ads on-air between December 26, 2002 and January 8, 2003 feature a front-line housekeeper and a patient who talk about why privatization is the wrong answer.
Disturbing Results - July 2002 (TV, 30 seconds)
This ad paints a graphic picture of the consequences of privatization in other countries. "Disturbing Results" won silver in the International TV category at the 2004 Pollie Awards of the American Association of Political Consultants.
One Mistake - June 2002 (TV, 30 seconds)
In "One Mistake" (Windows Media - .wmv format) front-line HEU members tell the public why their jobs matter to patients and shouldn't be privatized.
A series of 10-second sponsorship spots aired at the same time.
Trust - Feb 2002 (Radio, 30 seconds)
Can Gordon Campbell be trusted with health care? A new radio ad that aired February 5, 6 and 8 suggests that he can't. He broke his commitment to respect the legally-negotiated collective agreements of tens of thousands of health care and community social services workers. The ad includes a clip of Gordon Campbell's now famous interview with the union newspaper the Guardian.
To prepare the ground for a privatization offensive, Victoria and its allies are mounting a full scale attack on HEU members who don't provide direct patient care services. Listen to what two health care support workers have to say about the job they do and how it's a crucial part of patient care delivery.
Gordon Campbell's Liberals are talking privatization. Listen to HEU's ad taking on the new government on the issue of privatizing long-term care facilities. It's running on the Rafe Mair Show on CKNW from March 19 through March 26.
It's not safe - Feb 2001 (Radio, 30 seconds)
A report released by HEU shows that staffing levels in BC's long-term care facilities are at dangerously low levels. And a radio ad airing across the province February 19-23 explains to the public why front-line caregivers are fighting for better seniors' care at the bargaining table.
Bargaining talk radio - Dec 2000/Jan 2001 (Radio, 60 seconds)
HEU members back their demands for better working and caring conditions with a series of radio ads that aired on Boxing Day and ran until January 5.
The three ads take the form of a radio call-in show and highlight health care workers' efforts to improve our health care system through increased staffing levels, more training opportunities and by putting community health services on a level playing field with hospitals and long-term care.