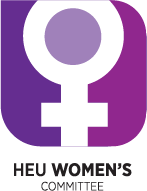 As one of the largest unions of women workers in British Columbia, HEU has a long history of fighting for the rights of women in both the workplace and community.
The HEU Women's Standing Committee works with grassroots women's groups, community coalitions and other trade union committees dedicated to social and economic equality and the advancement of women's rights.
Projects and initiatives
Every year on March 8 - International Women's Day - HEU celebrates the achievements of women, and promotes women's social and economic equality. Local unions are encouraged to commemorate the day with information and events that recognize women's struggle for equal rights and opportunities.