Union preparing full report on tentative agreement and will hold information sessions in preparation for ratification votes
Image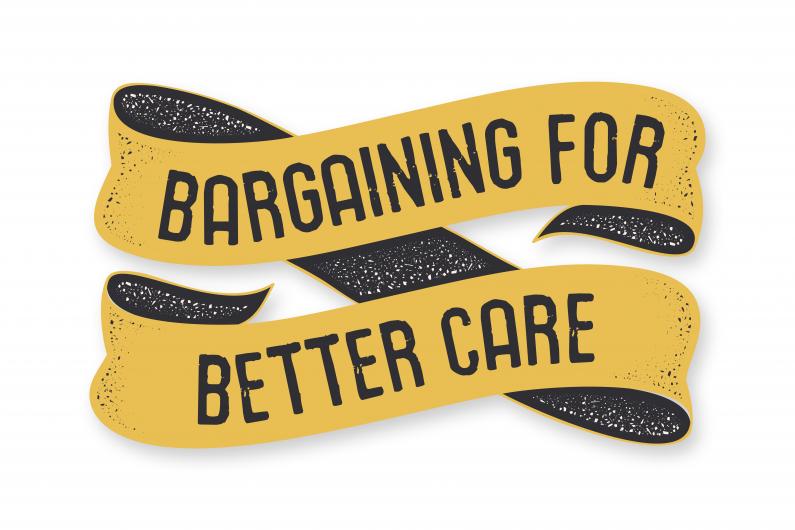 The HEU Provincial Executive has reviewed the Facilities tentative agreement reached last week with health employers, and is recommending that members vote yes in ratification votes to be held in the coming weeks. The agreement covers more than 60,000 health care workers across B.C.
The tentative agreement links wage increases to inflation, improves premiums and other compensation, and takes action on staffing shortages and burnout on health care's front lines. 
HEU secretary business manager Meena Brisard, who led negotiations for the Facilities Bargaining Association (FBA) with the Health Employers Association of BC (HEABC), says that she's looking forward to reviewing details of the tentative agreement with members over the next few weeks.  
"This agreement is a major move forward for members with more rights, respect and security. We've negotiated important provisions to deal with the staffing crisis, and to insulate members' wages against rising costs." 
The proposed three-year contract includes general wage increases linked to cost of living indicators. A detailed explanation of the cost of living trigger will be provided in the weeks ahead, but here's what it means for members:
Year 1 – Effective April 1, 2022 increase all rates of pay by 25 cents an hour and then increase all rates of pay by 3.24%. These wage increases are retroactive to April 1, 2022.
Year 2 – Effective April 1, 2023 increase rates of pay by the annualized average increase of the BC Consumer Price Index (CPI) over the 12 months starting on March 1, 2022, to a minimum of 5.5% and a maximum of 6.75%.
Year 3 - Effective April 1, 2024 increase rates of pay by the annualized average increase of the BC CPI over 12 months starting on March 1, 2023, to a minimum of 2% and a maximum of 3%.
For clarity, if the maximum increases in Year 2 and Year 3 are triggered, members of the bargaining unit will see their wages increase by more than 14% by April 1, 2024. A care aide at Grid 22, for example, would see their wages increase by 14.6% by April 1, 2024.
The tentative agreement also addresses the historic 2004 wage cuts to the bargaining unit through a joint process with employers and government to make recommendations for the next round of bargaining. As an interim step, $15.6 million in ongoing funding will provide wage adjustments starting with the lowest-wage workers in April 2023.
Over the term of the agreement, weekend premiums increase to $2.15 an hour; evening premiums to $1.90 an hour and night premiums to $3.20 an hour. Some of those increases will be retroactive.
Criminal record checks, FoodSafe refresher courses, and professional fees for Regulated Pharmacy Technicians will now be fully covered by the employer. Required sick notes will be 50% covered by the employer. Transportation and uniform allowances and the Trades Qualification premium, are also improved.
And up to $125 a year will be reimbursed by the employer for required Canadian Standard Association (CSA) certified grade one or two protective toecap or electrical protective footwear.
The agreement secures major investments to attract and retain workers including an expanded Health Care Access Program (HCAP) and $4.5 million in funding to the FBA Education Fund.
The tentative agreement builds on the unions' historic work to undo the damage of years of privatization by the former BC Liberal government, with a commitment to bring in contracted support services workers at Fraser Health P3 hospitals and facilities back in-house.
An additional 9.25 million hours of staffing will be added to the bargaining unit, with a commitment that three out of four positions created will be regularized and full-time. This adds more than 2,000 staff to the bargaining unit in addition to previously repatriated support workers.
Making workplaces safer was also a top membership priority. Workers will now have input into care plans for aggressive patients or residents, and greater access to violence prevention training. JOHSC committee rights have also been extended, and occupational health and safety also includes physical and psychological health and safety. 
The bargaining committee negotiated a groundbreaking agreement on scheduling that will help with work-life balance. It provides for member-initiated proposals to help reduce the number of six-day rotations. And a number of leave provisions in the collective agreement have been improved.
New funding will expand the number of Enhanced Disability Management Program (EDMP) stewards, and in addition more than 21 full-time dedicated shop stewards at the largest worksites will be fully funded by the employer.
The agreement includes provisions to address harassment and bullying, promote trans inclusion, and to ensure culturally safe health care delivery.
"We are very proud of our work to put reconciliation into action in the collective agreement including provisions on the recruitment and career advancement of Indigenous workers, and expanded paid leave for culturally significant ceremonies and celebrations," says Brisard.
"Our bargaining committee accomplished a lot over nearly seven months of bargaining, and we're looking forward to reviewing the many gains we have made with the members of the FBA unions."
The union is currently preparing a comprehensive report on the settlement including the full text of more than 100 negotiated provisions.
In addition, a number of opportunities including a Telephone Town Hall are being scheduled so members can learn more before voting on the tentative agreement.
HEU and the other FBA unions will schedule ratification votes on the agreement over the next several weeks.