My role has broadened during the pandemic by providing more comfort and entertainment through modern communication methods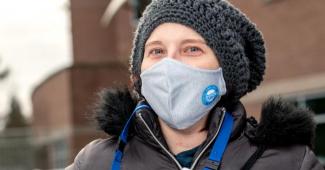 Members Stories
"I'm a Rehabilitation Assistant working with the surgical physiotherapists and occupational therapists to help patients after surgery. My goal with my team is to help get patients stronger and more mobile to help improve their independence before going home.
I've been in the field for more than 19 years and I've learned that patience and encouragement go hand in hand. My strengths, along with those of the surgical team, are to be super encouraging, positive, and motivating with patients. Our role is to make patients feel at ease and to help them with daily success. No patient is the same and we want people to feel like they're making progress. My favorite part of the job is helping the patients and seeing them improve each day.
I have noticed an increase in patients' anxiety and depression, during COVID, exacerbated from the lack of family and friends being allowed to visit on a regular basis. I feel that my team and I have become like family to them. I have had to learn how to set up and use more communication tools like zoom and Google to allow patients to feel connected with their loved ones. My role has broadened during the pandemic by providing more comfort and entertainment through modern communication methods.
Since the pandemic began, the hospital has become one of the main social environments that I've been able to engage with. We're checking in on each other all the time and there's a lot more comradery. I miss hanging out with my friends in the community right now, but I enjoy hanging out with my patients and colleagues because I get to use my creativity and energy to help them feel better. It is a chance to show kindness when people are feeling vulnerable.
One of the most important things I have learned during the pandemic is to take time for myself to unwind, de-stress, and truly reflect on daily blessings and accomplishments. People need to make sure they take time for themselves, even if the "dishes need to get done!""
 
Pamela, Rehabilitation Assistant, part of the health care team