Local executive elections during COVID-19
COVID-19 safety concerns have affected how we communicate and gather, and it will affect how we hold our elections as well. Elections must be held by the end of April 2021, per the Constitution. But locals are encouraged to hold their elections as early as possible.
In order to abide by HEU's other Constitutional requirements for valid elections, the Provincial Executive has established that your Regional Vice President (RVP), as the Local Elections Officer.
In order to conduct online elections, locals should take the following steps:
Collect email addresses and mobile numbers for members - A full list of emails and mobile numbers are needed in order to hold an online vote. https://www.heu.org/change-contact-information
Choose an election date and time - The local will set the date and time for the election. The time will be a 24 hour window to vote online.
Locals will continue to manage the nominations procedure - You can hold a nomination meeting through Zoom, or receive nominations by any combination of email, texting, or other virtual communication methods that work for your members. Your RVP/EO (Elections Officer) can help you work out a plan.
Send election information to the Local Election Officer - Send by email the following information to your Local Election Officer: (1) the date and time the election should begin and end; (2) The name of each candidate and the position(s) they are running for; and (3) Contact details for a person at each local who will liaise with the Elections Officer and with members before and during the voting period, if issues arise.
Post nomination and election information to members - Use the templates below to create nomination and election notices/posters and post on your union board and any online boards (such as Facebook group).
Local election nomination and election notice templates
These are PDF posters that can be filled out with the relevant information for your local elections.
Once you've filled out the information on the posters, you can simply print them and post on your union board, or post on your local's online space (e.g. Facebook group) by converting the PDF to a JPG file, using an online tools such as: https://www.adobe.com/ca/acrobat/online/pdf-to-jpg.html
Local Election Nomination Notice template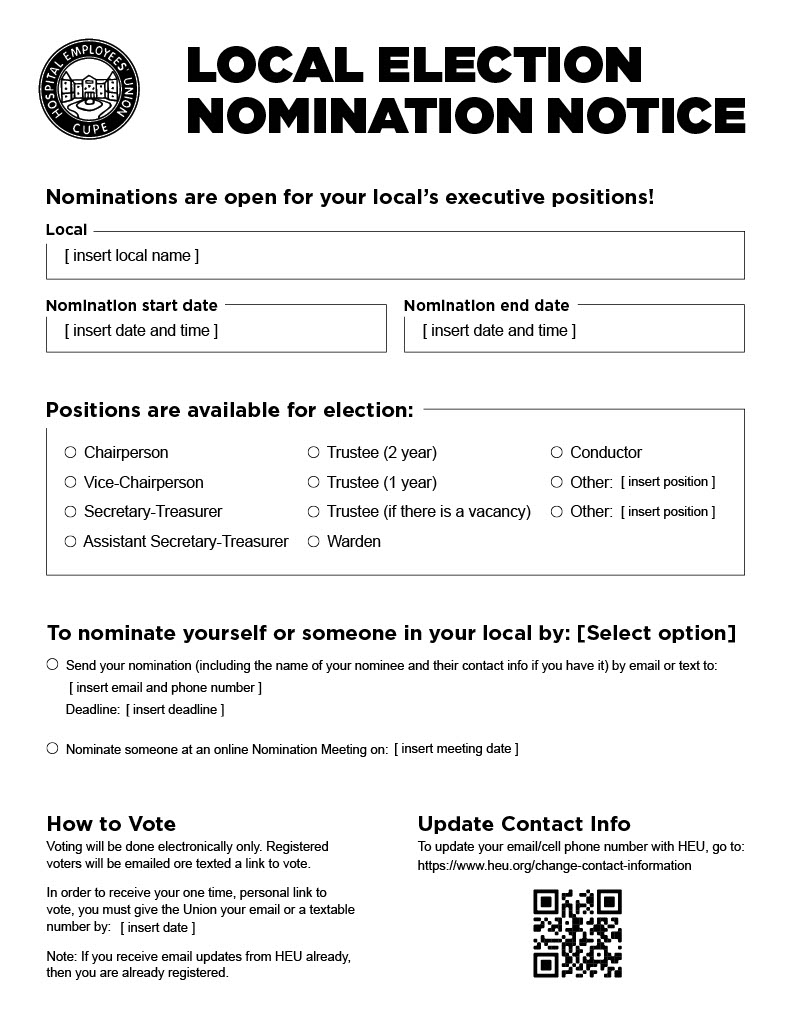 Local Election Notice template