HEU calls for fundamental changes in workers' compensation system review
From the Guardian.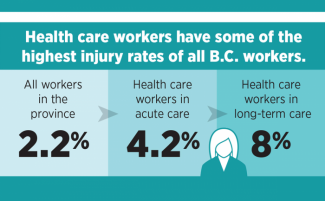 HEU members who have struggled to secure compensation following a job-related illness or injury are welcoming a long-awaited review of the province's workers compensation system.
In public hearings held across the province, 12 HEU members came forward to share their personal stories and describe the devastating impact WorkSafeBC decisions have had on their lives.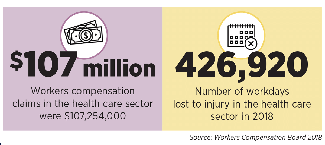 Their stories detail lengthy delays for decisions and appeals, poor communication, mistakes made in initial descriptions of their injuries, and having their needs ignored or dismissed altogether.
"Stories from our members paint a highly disturbing picture," says HEU secretary-business manager Jennifer Whiteside. "We're hearing about levels of mental distress, and the loss of quality of life, that are directly related to members' experiences in the compensation claim process."
The B.C. government has launch-ed the review with a goal of making the system more worker-centered.
"The biggest overall problem we see is how slow the process can be," says HEU's director of OH&S Georgina Hackett. "The organizational culture of WorkSafeBC needs a fundamental shift.
"Workers cannot continue to be treated with disrespect and disbelief. Change must begin with the senior leadership in their day-to-day actions, and must be communicated to all WorkSafeBC staff."
Her comments echo the first of 31 recommendations in HEU's submission to the Review – a call to amend the Workers Compensation Act to create a balanced board of directors, where workers and employers have equal representation.
The workers compensation system, brought to Canada over a century ago, was designed to protect employers from legal liability for safety violations. In return for a guaranteed benefits system, workers gave up their right to sue.
"Workers are equal partners in the compensation system," says Whiteside. "When workers' injuries are the result of their jobs, they have a right to fair representation, and to be treated with respect. Instead, they pay a huge price in so many different ways."
Another key recommendation is restoring the benefits level an injured worker receives to 100 per cent of their net salary.
In 2002, the B.C. Liberal government reduced compensation benefits to 90 per cent, along with significant cuts to all aspects of the system.
"This amounts to workers paying for their injuries," says Hackett. "It discourages claims and penalizes workers who are already suffering."
It also reduces other future benefit amounts, such as loss of earnings and permanent impairment, as those are calculated as a percentage of compensation benefits.
The benefit cut was originally pushed as a cost-saving measure for employers, but WorkSafeBC currently boasts a $2.9 billion surplus.
Many of the additional recommendations in HEU's submission address specific policies and practices that create frustrating barriers and stressful delays.
WorkSafeBC doesn't require phone calls from claimants to be documented. Workers have discovered months later that information they discussed with their case managers was never added to their files.
Injuries are recorded at the time of reporting, and updated diagnoses from specialists, or injuries that develop over time, are often rejected.
Employers are not held sufficiently accountable for accommodating workers who return to light duties or need to be moved to a different job.
And there's a lack of accountability at all levels for decisions made by WorkSafeBC reviewers, medical advisors and caseworkers.
"Workers often feel WorkSafeBC is invested in delaying payment, denying benefits, and dissuading workers from appealing claims," says Hackett. "For example, when a worker's appeal is successful, they receive retroactive benefits. But WorkSafeBC does not have to pay interest on that money. There's no penalty to them for creating delays, even if they are shown to have made an incorrect decision."
The cost to the worker making the claim can be enormous, in lost wages and benefits, and mental and physical pain and stress.
The Review's final report is expected to be delivered to Minister of Labour Harry Bains in late September.
by Elaine Littmann