HEU co-sponsoring Stonewall activist Martin Boyce at Vancouver Pride event
News Blog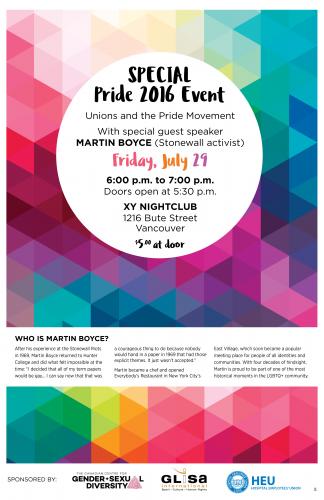 HEU has partnered with GLISA International and the Canadian Centre for Gender & Sexual Diversity to host a special Pride 2016 event, "Unions and the Pride Movement", on Friday, July 29 at XY Nightclub (1216 Bute Street in the heart of Davie Village).
They're bringing Stonewall activist Martin Boyce to Vancouver to share his experiences in advocating for LGBTQ+ rights over the past four decades.
So, who is Martin Boyce?
After his experience at the Stonewall Riots in 1969, Martin Boyce returned to Hunter College and did what felt impossible at the time: "I decided that all of my term papers would be gay... I can say now that that was a courageous thing to do because nobody would hand in a paper in 1969 that had those explicit themes. It just wasn't accepted."
Martin became a chef and opened Everybody's Restaurant in New York City's East Village, which soon became a popular meeting place for people of all identities and communities. With four decades of hindsight, Martin is proud to be part of one of the most historical moments in the LGBTQ+ community.
Tickets are $5 at the door. Event is from 6:00 p.m. to 7:00 p.m.; doors open at 5:30 p.m. Everybody is welcome. And be sure to stick around for Vancouver's popular QueerProv troupe for some fabulous comedy afterwards! Don't miss this unique opportunity to meet a pioneer activist!
Martin will also be interviewed on Roundhouse Radio 98.3 FM on the Janice + Cory Show at 5:00 p.m.