HEU plans rally and BBQ to fight mass layoffs at care home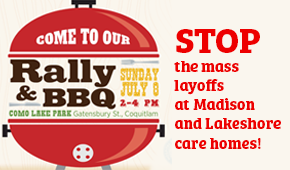 News Blog
In early May, over 100 staff at Madison and Lakeshore care homes in Coquitlam voted to join the Hospital Employees' Union. Three weeks later, they received layoff notices from the care home contractor.
These care aides and LPNs -- plus 50 more housekeeping and dietary workers who were in the middle of an organizing drive at the same facility -- will lose their jobs by the end of the summer. The care home is planning to bring in a new contractor, and these workers will have to apply to get their own jobs back.
Not only do the staff -- many of whom have worked in the homes for years -- face losing their jobs, but residents of the homes will lose their longtime, trusted caregivers. Families with loved ones at Lakeshore and Madison are concerned about the disruption, and have joined the workers in calling for a stop to the layoffs.
Join HEU at a rally and BBQ at Como Lake Park in Coquitlam on Sunday July 8, from 2 to 4 pm, to demand action.
HEU is asking the Fraser Health Authority and the B.C. Ministry of Health to stop the layoffs, and ensure these newly organized workers keep their jobs and their union.
Please stop by the event from 2 to 4 pm, to hear more about the fight to stop the mass layoffs, and show your solidarity and support. Learn more about the issue here, and read how the Fraser Health Authority has promised to help.
Find Como Lake Park on Gatensbury Street in Coquitlam: