HEU condemns anti-Indigenous violence targeting Mi'kmaq fishing rights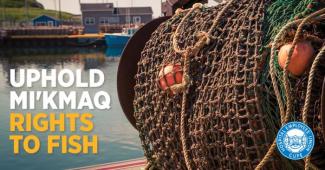 News Blog
The Hospital Employees' Union strongly condemns anti-Indigenous racism and violence that's taking place in the lobster fishery on the Nova Scotia coast.
In recent weeks, Mi'kmaq people's inherent right to hunt, fish and gather in their territories has been targeted and sabotaged.
HEU joins with other unions to call on the federal government to take immediate action to end the racist violence against Indigenous fishers, and to uphold their treaty rights.
Canada's federal government has a duty to uphold Indigenous peoples' inherent rights, as per section 35 of the Constitution, the Peace and Friendship Treaties (1760-1761), and relevant court decisions that followed such as the Marshall Decision.
On behalf of Canada's labour movement, the Canadian Labour Congress has called on the federal government to:
Uphold the rule of law and respect treaty rights. The Department of Fisheries and Oceans must negotiate in good faith with the Sipekne'katik First Nation representatives to work out a reasonable solution to the fishery dispute that respects the Marshall Decision;
Address the threats, attacks and discrimination against Mi'kmaq people; and
Ensure the safety and security of Mi'kmaq people as they exercise their legal treaty rights.
The HEU has written to the federal and Nova Scotia governments and urged them to act urgently to uphold the rights of Indigenous fishers and prevent further anti-Indigenous violence. The union is also offering direct support to the Sipekne'katik First Nation in aid of their assertion of treaty fishing rights.