Tonight! HEU telephone town hall addresses anti-Indigenous racism in health care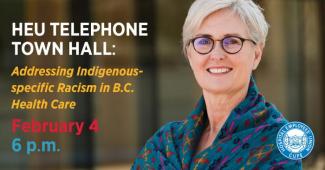 News Blog
Last November, Dr. Mary Ellen Turpel-Lafond released her independent investigation into Indigenous-specific racism, prejudice and discrimination in B.C.'s health care system. Her report entitled In Plain Sight includes important recommendations that are a roadmap for how we address this legacy.
"Her investigation is another reminder that while we all expect our health care system to be a place of compassion, comfort and care, that is often not the experience for Indigenous Peoples, and that in turn causes deep harm that impacts health and wellness," says Mike Old, HEU's interim secretary-business manager.
"The report also shows that Indigenous health care workers frequently encounter racism and discrimination on the job."
HEU has organized a special telephone town hall on Thursday, February 4 (6:00 p.m. to 7:00 p.m.) with Dr. Turpel-Lafond, hosted by HEU president Barb Nederpel.
It's an opportunity for all HEU members to hear from Turpel-Lafond about her findings, learn more about the issue, and ask questions. You don't need to register to participate. Members will be called directly, and given an opportunity to participate.
In Plain Sight is available here: https://engage.gov.bc.ca/addressingracism/.
The discussion will tackle difficult information that may be painful for some members. HEU has arranged for Elders and counsellors to be available for private consultation during and after the telephone town hall.
The following resources are also available after the town hall.
First Nations, Métis and Inuit peoples, who require emotional support, can contact:
First Nations and Inuit Hope for Wellness Help Line and On-line Counselling Service at 1-855-242-3310 or through <hopeforwellness.ca>
Métis Crisis Line at 1-833-MétisBC (1-833-638-4722)
KUU-US Crisis Line at 1-800-588-8717
Although the report has been published, there is still an email and phone line setup to give voice to Indigenous Peoples accessing or providing health care services. The investigative team is still gathering stories, issues, complaints, or incidents as part of its ongoing inquiry into Indigenous-specific racism in health care.
You can phone toll-free at 1-888-600-3078, or email <addressing_racism@gov.bc.ca>.