De Aguayo appointed chair of the Labour Relations Board
HEU congratulates Jacquie de Aguayo on her appointment as the new chair of the B.C. Labour Relations Board (LRB) and Employment Standards Tribunal (EST).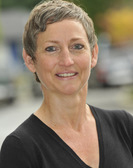 De Aguayo is a former legal director and Assistant Secretary-Business Manager of HEU, leaving in 2014 to join the LRB.
The announcement was made today by B.C.'s Labour Minister Harry Bains, who noted de Aguayo "brings a wealth of talent and experience to the position."
De Aguayo is the first woman to be appointed chair of the LRB and EST, and brings to the position a strong background in labour relations and employment and constitutional law. She was engaged as a vice-chair of the LRB in 2014, the board's registrar in 2015, and in August 2017 was appointed acting chair.
De Aguayo was first called to the bar in Ontario where she became in-house counsel for the Public Service Alliance of Canada in 2002. Following her move to Vancouver in 2010, she began working at the Hospital Employees' Union.
The LRB is an independent administrative tribunal that oversees labour relations in unionized workplaces, under the B.C. Labour Code. The Employment Standards Tribunal hears appeals of decisions made by the Employment Standards Branch involving non-unionized workers and employers.
HEU joins B.C.'s labour movement and the provincial government in looking forward to a new vision and direction for the board under her leadership.