National Day of Remembrance and Action to End Violence against Women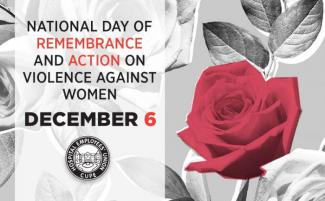 Newsletter
On December 6, HEU remembers the 14 women who were gunned down in the prime of their lives 29 years ago just because they were women.
On that day, a gunman entered l'École Polytechnique de Montréal, separated the female and male engineering students, and opened fire on the young women, killing 14 and injuring several more. It remains the biggest mass killing of women in Canadian history.
HEU joins the nation in commemorating Geneviève Bergeron, Hélène Colgan, Nathalie Croteau, Barbara Daigneault, Anne-Marie Edward, Maud Haviernick, Maryse Laganière, Maryse Leclair, Anne-Marie Lemay, Sonia Pelletier, Michèle Richard, Annie St-Arneault, Annie Turcott and Barbara Klucznik-Widajewicz.
And while all women and girls are vulnerable to violence, RCMP stats show Indigenous women are six times more likely to experience violence than non-Indigenous women – and that only accounts for police-reported incidents.
On this day, we recommit to taking action wherever and whenever we can to stop violence against women and girls.
As a social justice union – comprised of more than 85 per cent women – HEU is deeply committed to working toward ending all forms of violence against women and girls.
We are reminded that it falls to each and every one of us to promote a culture within our union, our work sites, and our communities that doesn't allow or accept any form of violence against women.
Please share HEU's commemorative social media shareables on with your networks.