The WCB system in B.C. is under review – have your say!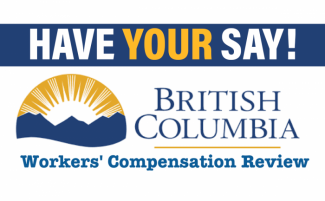 Did you or someone you know:
•    have difficulty with their workers' compensation claim?
•    have difficulty returning to work after a workplace injury?
If so, you can share your view about what an improved workers' compensation system should look like, and make your voice heard. The deadline for all submissions is July 19.
The goal of the review is to shift the workers' compensation system to become more worker-centred. Retired labour lawyer Janet Patterson, who is leading the review, really wants to hear from injured workers about their personal experiences with the system and how it could be improved.
There are three ways to participate:
1.  Take an online questionnaire
Choose the Take the online questionnaire button on this page
2. Send in written comments
Written comments can be sent by email, mail, or fax. Comments do not have to be made in a formal way, they can be made in point form, or hand written, and they can include relevant attachments.
As well, submissions may be made in languages other than English and the Reviewer will translate the material into English.
Email:  info@wcbreview.ca
Mail:     WCB Review 2019
                Attn: Donna Hanson, Review Coordinator
                PO Box 97122 Stn Main
                Richmond, B.C. V6X 8H3
Fax:      604 233 6795
3. Attend a public hearing
Public hearings are being held in communities around the province.
Vancouver - Monday, June 24 & Tuesday, June 25
Chilliwack - Thursday, June 27
Williams Lake - Tuesday, July 2 & Wednesday, July 3
Kamloops - Thursday, July 4
Cranbrook - Monday, July 8 & Tuesday, July 9
Kelowna - Wednesday, July 10
Victoria - Thursday, July 11
Fort St John - Monday, July 15 & Tuesday, July 16
Prince George - Wednesday, July 17
Terrace - Thursday, July 18 & Friday, July 19
You can reserve a spot at a public hearing by clicking the Attend Public Hearing button on this page
If you have any questions about the review please contact Lynn Bueckert, HEU's special OHS advisor at lbueckert@heu.org or 604-456-7008.
Get more information about the review and how to participate
Personal information collected for the review is done so under sections 26(c) and 26(e) of the Freedom of Information and Protection of Privacy Act ("FOIPPA").