HEU's stands in solidarity with Alberta health care workers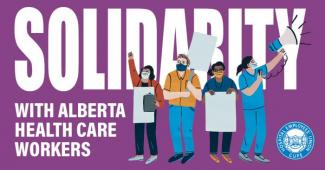 News Blog
This week, HEU sent a letter the Alberta Federation of Labour, expressing our support and solidarity to Alberta health care workers during this time.
HEU, which represents more than 50,000 health care workers in British Columbia, stands in solidarity with health care workers in Alberta who are facing down a draconian attack on their livelihoods, their rights and on the critical services they deliver to the public every single day.
In B.C., our members faced an almost identical attack from the Gordon Campbell Liberal government nearly 20 years ago. We're still picking up the pieces today.
Nearly 10,000 front-line health care workers – mostly hospital housekeeping, food services and laundry staff – were fired in just a few short years to clear the way for contracting out to multinational corporations.
Nearly 90 per cent of those so-called "non-clinical" workers were women, and highly racialized as compared to the rest of the workforce. They were invited to reapply for their jobs at half the wages.
This must sound familiar to hospital workers in Alberta today.
Workers have one choice in these situations -- to fight for the important public services and decent jobs that make our communities strong and safe. Alberta workers made it clear on Monday that this is a fight well worth engaging.
Alberta health care workers have a strong ally in HEU as they take action to oppose Kenney's reckless attacks on workers and health care.
Download a PDF of HEU's Letter to Alberta Federation of Labour