HEU's Whiteside to seek election as MLA for New Westminster in October 24 vote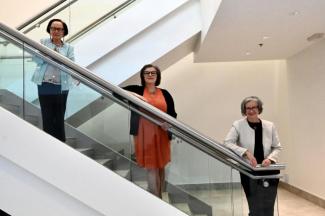 Newsletter
HEU secretary-business manager Jennifer Whiteside is seeking to represent New Westminster in the provincial legislature in B.C.'s upcoming election.
The BC NDP announced this morning that Whiteside had won a contested nomination vote to represent the party in the October 24 vote.
HEU president Barb Nederpel says Whiteside will be a strong voice for New Westminster in the provincial legislature.
"Jennifer is an awesome leader who is deeply committed to equity, workers' rights and defending strong public services like health care," says Nederpel.
"She's a feminist, a fighter and she's a community builder.
"Jennifer has accomplished so much for HEU members in the last five years, and I'm really excited about what she will achieve for her community and the province if she is elected on October 24."
HEU's financial secretary Betty Valenzuela says Whiteside has been a role model for many union activists.
"I can't wait for voters to get to know Jennifer better. She's an effective advocate for our health care system and for social justice," says Valenzuela.
Whiteside says the union has a bright future with a growing membership, strong elected leadership and committed and experienced staff.
"I have been so honoured to represent HEU members. They bring such compassion and commitment to their work every single day," says Whiteside.
Whiteside, who has served as the union's secretary-business manager since 2015, will take a leave from her position to run in the election.
Mike Old, a member of the union's senior executive team, has been appointed acting secretary-business manager for the duration of the campaign period effective immediately.