From the Fall 2021 issue of the Guardian.
Image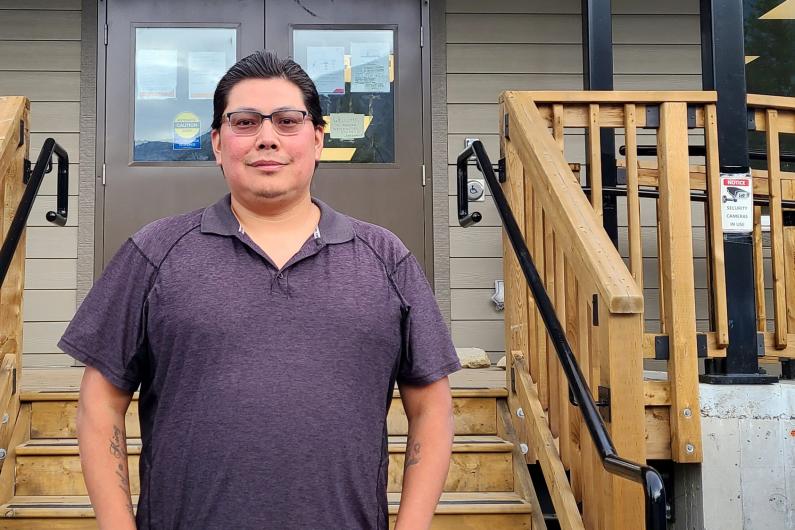 Care aide Jordan Spinks' workplace is gone.
In late June, his hometown of Lytton, B.C. was destroyed by a fast-raging fire. The Spintlum Lodge assisted living facility, where he worked, burned to the ground.
Spinks had just finished an afternoon shift, and was heading to his home on the Lytton First Nation, when he spotted the blaze. He raced back to the Lodge, along with his teenaged son. They helped the residents out of their rooms, and fled to a safe spot up the highway.
Witnesses say it took only 15 minutes for the entire town to be engulfed.
The Interior Health Authority offered to redeploy Spinks to the Lower Mainland to work, but he needed to stay in Lytton to care for his son, family and community. "I couldn't go," he said, after watching his town disappear in flames. "It was too much."
Spinks is just one of many health care workers impacted by this year's wildfires, putting them on the front lines of both a pandemic and a climate emergency.
"The devastating wildfire season in B.C. this year put additional strain on health care workers across the province, but they handled it with care and compassion," says HEU secretary-business manager Meena Brisard. "I know that this summer many of you lived on alert, waiting to move vulnerable residents and patients to safety."
At least 10 long-term care homes and a hospital intensive care unit in the Interior had to evacuate to other communities, some more than once, and for weeks at a time.
When an evacuation is ordered, staff help confused and anxious residents get ready. Trucks are packed with personal belongings, medications and supplies. Buses and ambulances are arranged to transport residents, and care homes must be found in safe communities.
Care aides travel to the new facilities to help residents get settled. Some remain and work with the staff at the new site. Some may stay at their facility doing non-care work. Others choose to redeploy closer to home while their own sites are closed.
Mill Site Lodge and Fischer Place in 100 Mile House evacuated twice. The first time, residents were relocated in and around Salmon Arm, about 250 km southeast. When the alert was finally lifted several weeks later, they returned – only to be issued a new evacuation order just four days later. This time, they were relocated to the Lower Mainland.
Angie Hatch, a care aide, stayed with the residents during both evacuations. She remembers the anxiety and confusion of the crisis, but praises the staff at the Coquitlam care home, where most of the residents were housed.
"They opened up their hearts, they treated our residents like their own," said Hatch. "We worked as a team."
By the end of the fire seasons, thousands of people in B.C. faced evacuation orders or alerts, and hundreds of blazes scorched more than 8,600 square kilometres of land.
Spinks hopes he'll have his position to return to when the health centre and Lodge are rebuilt. In the meantime, he has taken a job with his band, managing the community centre and grocery store.
 "It's hard," said Spinks. "I have to drive through town every day."
But he says the residents of Lytton have hope. "It's burned down before and we rebuilt. We're saying we'll build back better and stronger."