Image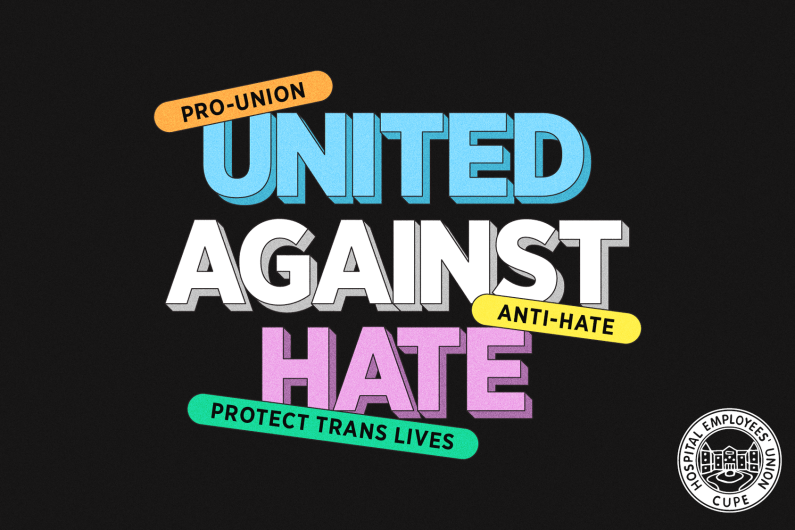 HEU is alarmed by the recent rise of intolerance and hate directed towards transgender and 2SLGBTQIA+ people, in particular the news of hate rallies being planned across B.C. next week. 
Our labour movement is built on principles of equity and solidarity, which includes the recognition that transgender rights are unequivocally human rights. 
As health care workers, HEU members care for all people when they're most vulnerable. We know that when people feel unsafe in their communities, they feel unsafe to access health care which undermines the principles of accessible, universal health care.
The recent examples of intolerance are alarming. They include: the recently adopted federal Conservative Party's resolutions to restrict transgender rights; protests at schools against SOGI-inclusive education; and regressive school policy changes around parental consent in Saskatchewan and New Brunswick that put transgender and 2SLGBTQIA+ students at risk.
Let's be clear: attacks against transgender and 2SLGBTQIA+ people are an attack on all of us, not limited to members of those communities. They make intolerance and bigotry acceptable, and pave the way to attacks against other communities. 
2SLGBTQ1A+ members and their families have been on the front lines of confronting this rise in hate in the past year. It's time for all community members to back them up, including elected leaders at all levels of government. 
As a social justice union, HEU encourages members of all communities to stand together against hate, and push back against intolerance, however it rears its head.
Here are some counter-protests organized by grassroots community groups to counter the anti-trans marches and rallies taking place on September 20, 2023. Aim to arrive half an hour before the protest begins.
Coquitlam — Coquitlam City Hall, Lot A 1299 Pinetree Way — 9 am
Kamloops — Kamloops Court House, 455 Columbia Street — 9 am
Keremeos — Memorial Park, 417 7th Avenue — 9 am
Penticton — Penticton City Hall, 171 Main Street — 9 am
Prince George — Prince George City Hall, 1100 Patricia Boulevard — 4 pm
Princeton — Princeton Branch Library, 107 Vermillion Avenue — 9 am
Surrey — Education Minister's Office, 9030 King George Boulevard — 12 noon
Vancouver — Vancouver Art Gallery, 750 Hornby Street — 12 noon
Victoria — BC Legislature, 501 Belleville Street — 11 am