Image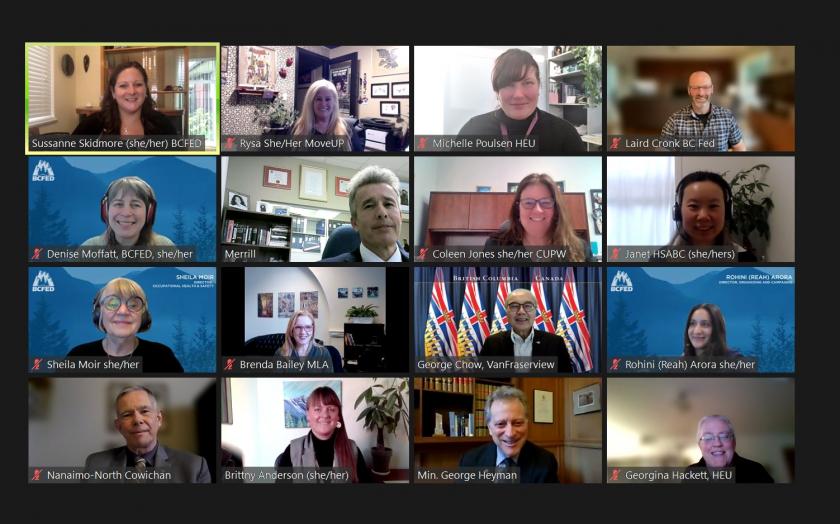 Last week, HEU representatives joined the B.C. Federation of Labour to lobby the provincial government for reforms to the workers' compensation system for injured workers.
WorkSafeBC (the Workers Compensation Board) operates on a historic compromise where workers relinquish the right to sue their employers for on-the-job injuries, and employers contribute to a pool of funds to compensate injured workers.
Massive cuts to benefits by the BC Liberals started in 2002, undermining support for injured workers.
Two years ago, retired labour lawyer Janet Patterson submitted a report to the provincial government, detailing problems in the administration and funding of WCB and other support for injured workers, and recommended a comprehensive strategy for change.
Here are some of the key points that HEU delivered to MLAs.
Implement the Patterson Report Recommendations
Compensation for injured workers is a fundamental issue that impacts many British Columbians throughout their lives.
The compensation system was intended to be a historic compromise between workers and employers. Workers gave up their right to sue employers when they are injured on the job in exchange for this no-fault compensation system that is supposed to take care of them. This is the only system injured workers can turn to for compensation and rehabilitation. It is essential that our system treats injured workers with dignity and respect and is worker-centered.
Right now, the system is designed to run more like a private insurance company. It is focused on reducing costs rather than providing the complex rehabilitation workers need to return to work and support their recovery. We're looking for a workers' compensation system that's worker centered.
Workers should not be forced back to work against their physician's recommendations, or back to work that places them at risk for further injury.
We are asking for amendments to the Workers Compensation Act to:
create a Fair Practices Commission to deal with individual and systemic complaints and to implement solutions;
remove binding policy provisions and allow decisions to be made on the merits and justice of the case;
mandate vocational rehabilitation to get workers back to safe and sustainable jobs; and
pay interest to workers when benefits are wrongly denied and a worker must endure a lengthy delay.
End the discrimination against workers with psychological injuries
The workers' compensation system should treat workers' psychological injuries with the same level of compassion and respect as physical injuries.
Currently, the Workers Compensation Act discriminates against workers with psychological injuries by setting a higher evidentiary burden for psychological claims and limiting compensation. These barriers, combined with the stigma associated with psychological conditions, discourage many workers from filing claims and getting the support and assistance they need.
If a worker suffers a psychological injury from a traumatic event in the workplace, they need to access treatment and benefits without facing extra barriers.
Workers across all sectors can be exposed to traumatic events and suffer psychological injuries. But currently, only workers in a limited number of occupations are entitled to the presumption that a traumatic event in their workplace caused their psychological condition.
Other provinces, like PEI and Saskatchewan, already recognize this reality and have extended the presumption to all workers, who experience a traumatic work incident. This clears a path through a complicated compensation system at a time when a worker most needs it.
British Columbians need a compensation system that treats injured workers and their families with dignity.