Image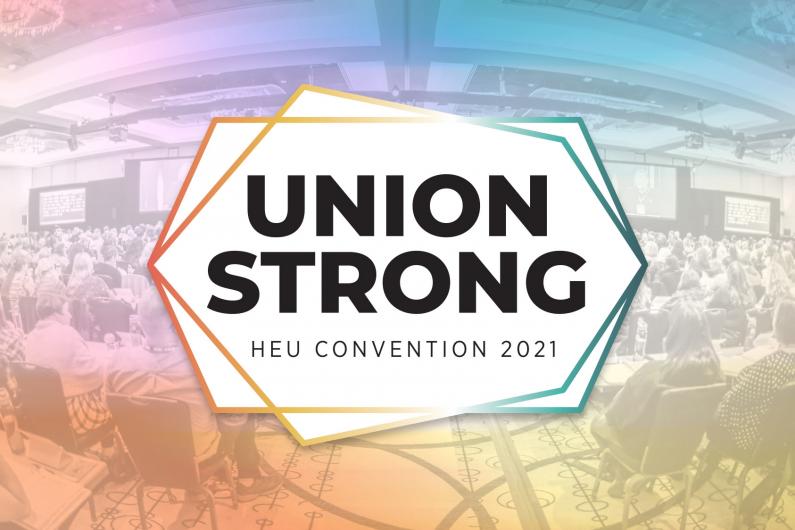 More than 450 delegates elected HEU's new Provincial Executive today at the union's 32nd biennial convention.
Re-elected were HEU president Barb Nederpel and financial secretary Betty Valenzuela. The appointment of secretary-business manager Meena Brisard was also ratified by delegates.
"I am truly honoured and privileged to be ratified during this historic convention with the 25-year anniversary of HEU's commitment to equity," said Brisard. "HEU has really walked the talk. We have our first female president, our first Filipina financial secretary, our first South Asian secretary-business manager, and we just passed a resolution to have five diversity vice-presidents and a young worker representative on our Provincial Executive.
"I am so proud to be part of so many firsts at HEU. I have been so impressed with the passion, the commitment and the solidarity of HEU members and I'm extremely excited about what our union will accomplish in 2022."
"I am deeply honoured to be given another term to serve as your president," said Nederpel in her thank you speech. "But I'm also very humbled to say that this isn't about me. None of this is… This is about you. This is about building a union, building a movement, one that everyone can be a part of. So, I just want to thank all of you for giving me that opportunity to be part of that future."
In a touching victory speech, Valenzuela thanked her family, her local, the HEU staff, and most of all, HEU members. She dedicated her upcoming term to HEU director Todd McAdam and her partner Peter, who both passed away this year.
"I am overwhelmed," said Valenzuela. "I was the first person of colour elected financial secretary. This is my second term. I hope I won't be the last. There are so many people to thank for this election. All the members of course. I love you all. You are a part of me. You're part of HEU. The union that we all love. To my home base Vancouver General Hospital local. Thank you for your loyalty and support. I would not be here without you."
 
Also elected today were: 1st vice-president Bill McMullan, 2nd vice-president Charlotte Millington, 3rd vice-president Erica Carr, Senior Trustee Elect Talitha Dekker, Senior Trustee Ken Bennett, and Trustee Catherine Black.
Eight P.E. alternates were also elected: Lisa Kreut (VGH), Rhonda Bruce (South Okanagan), Chris Batting (Prince George), Stephen Ariss (Kelowna), Manoj Saxena (RJH), Angela Allen (Kelowna), Arniel Abella (Kelowna) and Terri-Lynne Huddlestone (Prince Rupert).